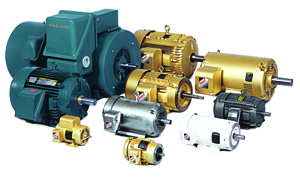 Baldor is the largest motor and mechanical power transmission company in North America.
Baldor-Reliance® motors range from 1/50th through 15,000 horsepower and have leading customer preference and market share. Baldor sells and supports the entire line of ABB IEC and medium voltage motors, along with a broad range of ABB industrial drives. Customers can now create packaged solutions of Baldor and ABB industrial motors and drives for most industrial applications. Baldor is also the leading producer of mechanical power transmission products, including Baldor-Dodge®
engineered mounted bearings, enclosed gear products and power transmission components, as well as Baldor-Maska® pulleys and couplings.
Baldor also offers unique industry expertise for unit handling, air handling and food and beverage applications. The company provides reliable, application-specific products, ensuring greater uptime with less maintenance, and our Industry Solutions specialists can create a complete solution that will improve your system's reliability and performance. Installed Base Evaluations are also available to aid end users in reducing energy consumption with the right mix of industrial motors, drives and gearing throughout an entire facility.
In 2011, Baldor Electric Company was acquired by ABB Ltd, and they are now a proud member of the ABB group. Together, Baldor and ABB can offer industrial solutions to local and global customers more effectively than any other single industrial supplier.
Baldor Electric Company, headquartered in Fort Smith, Arkansas, is a leading marketer, designer and manufacturer of energy-saving industrial electric motors, mechanical power transmission products and drives. Baldor products have exceptionally strong brand recognition for quality and value with our customers.
5711 R.S. Boreham Jr. St.
Fort Smith, AR, 2901
Phone: 479.646.4711
Fax: 479.648.5792
Email: BaldorLeads@BaldorLeads.com
www.baldor.com