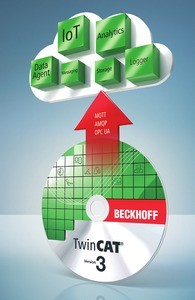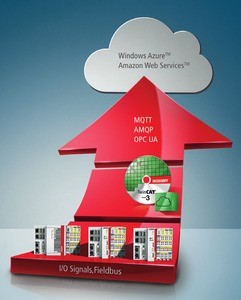 The next step toward Industry 4.0 is PC-based control
In the movement toward Industry 4.0, PC-based control technology from Beckhoff Automation provides the ideal toolbox to implement the leading automation concepts of our time. These concepts include the Internet of Things, cloud computing, centralized PC-based control systems, and ever-more connected devices via industrial Ethernet and OPC UA. Many users are already integrating Beckhoff controllers into their production networks, enabling them to communicate with databases, perform remote maintenance over the Internet, or request cloud-based services.
TwinCAT, Beckhoff's PC-based control software, also permits the secure integration of a wide range of connected devices into the control system such as: smartphones, tablets, and wearable technologies in the form of smart watches and data glasses. Open industrial Ethernet technology in the form of EtherCAT and "vendor neutral" solutions via OPC UA are available from Beckhoff to ensure data security without restricting connectivity. With the Power of One controls philosophy from Beckhoff (one PC-based controller, one software platform, and one network), leading manufacturers and machine builders can make great strides toward establishing meaningful Industry 4.0 practices while ensuring lean automation designs and streamlined system architectures.
Feature-Laden Solutions
While supporting all IEC 61131 programming languages and providing active support of multi-core systems, Beckhoff advances leading edge automation solutions that deliver high performance and efficiency. This includes the upcoming eXtended Transport System (XTS), a system that combines two proven drive principles into one revolutionary solution. With the XTS, Beckhoff has truly broken new ground with a drive technology innovation – because it represents the convergence of two well known drive principles, rotary motion and linear motion, into a single system. XTS is a high performance system that can provide advanced EtherCAT-based control technology for product packaging with variable product flow, complex material handling lines and much more.
Process and Batch Control Strategies
PAC, Process Controllers, Analog I/O, HMI, Fieldbuses and Networks
Discrete/Machine Control Strategies
PLC, Motion Control, Logic and Programming Software, Discrete I/O, HMI, Networks
Asset Management
Fieldbuses
Information Management
Networking, Ethernet, Databases, Connectivity
Safety Strategies
Machine, Emergency Shutdown
Energy Management
Sustainability, Variable Frequency Drives, Motors, Motion Control
Client contact:
Beckhoff Automation
Phone: 952-890-0000
beckhoff.usa@beckhoff.com
www.beckhoffautomation.com