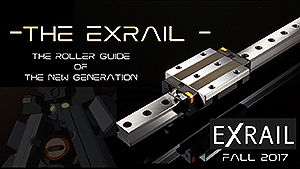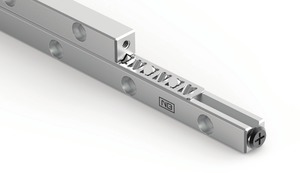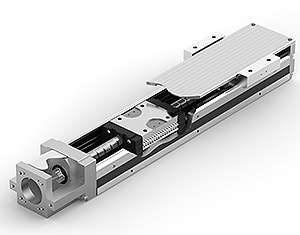 The EXRAIL – Innovation of the Roller Guide: Incorporates Re-circulating Needle Rollers for Ultra High Rigidity, Ultra High Motion Accuracy, and Ultra High Damping Capability –
In Comparison to Conventional Linear Roller Guides:
The EXRAIL has a 50% Higher Performance in Rigidity, Lowered Vibration to less than ½ for Motion Accuracy, and achieved a 50% Higher Damping Capability.
Maintenance Free: Equipped with porous resin material soaked in lubrication oil to extend service intervals
Innovative Crossed Roller Way Ends Slippage
The Device Merits Award winner NB STUDROLLER™ is perfect for motion control applications with extremely high acceleration
NV type STUDROLLER™ with Anti-Cage Creep Technology guarantees zero slippage.
The STUDROLLER's machined Raceways track STUDROLLER's nodules, preventing slippage in any position.
High Rigidity & High Load Capacity: The NV type has a load rating that is 1.4 to 2.3 times that of conventional types.
High Load Capacity Actuator
The BG is a single axis actuator which has a unique "U" shaped integrated slide guide and ball screw. The guide rails positioned lower than the ball screw center increase rail rigidity and allow the block to carry heavier loads.
Received the Good Design Award in Japan
4 gothic arch ball circuits contained in its slide block deliver High Load Capacity, Accuracy and Rigidity
NB's innovations, which started in 1939, have produced Linear Systems that minimize size and weight while providing superior performance in high-precision equipment.
Detailed product drawings and tables that provide dimensional and mechanical information can be found on our online catalog at www.nbcorporation.com or our NB Linear Mobile™ App.  CAD drawings can also be downloaded from the website or mobile app. NB products are designed to be interchangeable with competing brands and come in Inch Standard along with both Asian and Euro Metric Standards.
Contact: Larry Hansen
NB Corporation of America
Phone: 1-800-521-2045
Fax: (630) 295-8881
www.nbcorporation.com