Dover Motion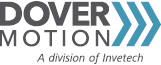 Dover Motion is revolutionizing the way things move. For more than 50 years, Dover Motion has been collaborating with clients to create motion solutions for the life sciences, diagnostics, and factory automation industries; and designing multi-axis stages for applications such as imaging, optics, focusing, positioning, and motion control.
Our core strength is working together to understand your project, and configure the right motion solution to fit your unique application and workflow. Dover Motion offers a portfolio of standard linear stage and rotary stage platforms that can be composed to suit your needs. Thousands of our installed products are working around the clock in demanding conditions such as high humidity, constrained spaces, and vacuums, and in challenging environments like cleanrooms and outer space.
Featured Articles & Products

Breakthrough Miniature Linear Stage delivers five times more force and twice the force density compared to similar competitive products. Dover Motion, a leading technology solution provider for motion...
[Read More]
Data Sheets & Catalogs
Featured White Paper