Humphrey Products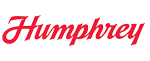 Humphrey Products is committed to manufacturing high quality pneumatic components, including air-piloted, vacuum-piloted, manual and mechanical, solenoid valves, air actuators and air cylinders.
Featured Articles & Products

Humphrey Products has recently acquired "Medical and Media Isolation Product Lines" from the Curtiss-Wright Corporation. Specifically, these products include Liquid Isolation (Inert) Valves, Liquid Isolation (Inert) Proportional Valves,...
[Read More]

From ambulance to operating room, recovery room to discharge at home, patients today encounter any number of medical devices that must be lightweight, small, safe, and often, portable....
[Read More]
Humphrey Products announces the introduction of the 193 Balanced Solenoid Valve Series — the 19mm version of the 15mm 153 model, and our next addition to the balanced...
[Read More]
Additional Resources