Servometer
As the company has grown throughout its history, so have the product lines. Servometer has applied its expertise in machining and electroforming to manufacture custom bellows and electroforms. With the high-strength, metal construction, Servometer was able to add flexibility to precision components by creating thebellows coupling. Servometer bellows have also found a home in the digital world. Gold-plated electrical contacts add offset capability, wide temperature operation, and minimal signal loss. Servometer has a portfolio of products to allow engineers to design solutions he or she never thought possible.
Servometer currently supports a variety of markets through its diverse product line. Primary markets include: Aerospace (commercial and military), military/defense, semiconductor, oil and gas, medical, industrial, and automation equipment. Servometer does support other industries due to the extreme flexibility and customization of electroformed components.
Servometer is an ISO 9001:2008 registered company. Through continuous improvement and lean manufacturing, Servometer builds custom, cost effective, quality solutions for its customers. Servometer has the engineering support staff capable of designing solutions with tight tolerances, coordinating with our operations staff to ensure manufacturability, and communicating results to our customers.
VISIT THEIR WEBSITE
Featured Articles & Products

Complete the form below to download this ebook: INSIDE: How to Design with Bellows Couplings Learn the Five Steps that Are Key To Manufacturing Electrodeposited Bellows What's the Difference Between Spring Rate and Life Cycle? Flexible Coupling Solutions from Tanks to Medical Devices Sponsored by: [Read More]
Selecting the couplings for your motion system doesn't exactly stretch the limits of your engineering degree. Which is exactly why most of us don't dig deeper to see...
[Read More]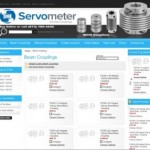 Servometer is pleased to announce its new line of precision motion control bellows couplings and rugged beam couplings are now available for purchase through their newly launched e-commerce...
[Read More]
Additional Resources