Die cast aluminum is a staple in the production of metal transportation products, from motorcycle brakes to steering gear housings to transmission casings.
Die casting turns out hundreds to thousands of well-finished parts a day which require very little post-processing – critical for huge production volumes.
However creating the tooling for die cast parts requires a significant upfront cost, both for the hard steel tool itself and for the dedicated time to make the tool.
Therefore, when moving into tooling for die casting, having a perfect design is key to avoid a defective tool and therefore product. To verify design and product viability before moving into tooling while still benefiting from the same aluminum alloy, we recommend Direct Metal Laser Sintering (DMLS) 3D printing.
DMLS can complement or enhance your die cast project through four key applications: Prototyping production quality metal parts; Die cast tooling inserts; Bridge to production; and DMLS as an economical low volume production solution.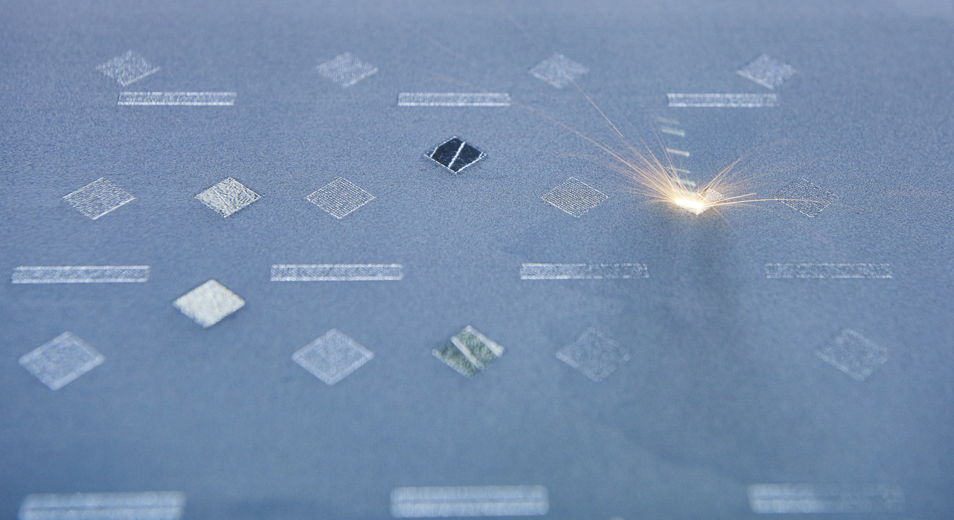 Prototype Die Cast Aluminum Parts
DMLS is able to print fully dense aluminum (AlSi10Mg) parts. AlSi10Mg shares comparable properties to die cast A360.
The DMLS aluminum is known for its low weight and high strength, hardness, and thermal properties as well as its corrosion resistance.
DMLS AlSi10Mg is capable of building thin-walled complex geometries quickly and accurately, making it ideal for quick-turn prototype parts.
Typically, DMLS AlSi10Mg is used to prototype a part that will eventually be die cast when engineers are looking for ways to reduce weight in the final part or other functional design verifications.
DMLS AlSi10Mg has comparable mechanical properties to die cast aluminum, making it highly useful for prototyping parts that will eventually be die-cast.
Steel Tooling Inserts
When it comes to the final die cast tool, DMLS with Stainless Steel 17-4 is a valuable manufacturing aid. DMLS is new to the tooling insert market, but has become a unique aid for quickly producing more complicated die cast parts more economically than a typical insert made through conventional machining.
DMLS is often used to create feature rich portions of stainless steel tool designs to help speed up production of die-cast tooling.
Bridge to Tooling
Because DMLS does not require a tool to make aluminum parts, it's often a go-to answer for quick turn production parts that are needed while the final die cast tool is manufactured. DMLS can print production aluminum parts in just 7-10 days whereas a final die cast tool can take 2-6 weeks to complete.
Relying on DMLS for early production units while the final tool is readied allows engineers to get a new aluminum part to market fast and efficiently.
Low Volume Aluminum Production (100 or Less)
Lastly, DMLS AlSi10Mg is also used for production units in the transportation, aerospace, marine, power tool, consumer electronics, telecommunication, handheld device and connector markets and consumer product sectors when the production volume is 100 or less.
Complex dies made out of hard steel incur high costs and lead times and therefore runs of 100 or less parts from a die cast tool can be cost prohibitive.
DMLS offers an affordable low volume solution for aluminum production parts that are small and complex, cutting out cost-prohibitive factors such as tooling, tooling aids, inserts, and added materials costs.
DMLS also enables the production of designs that incorporate complex features, higher material efficiencies, lower manufacturing costs, and faster turnaround.
Applications In-Use Today
DMLS with AlSi10Mg is used most commonly in transportation and aerospace. These industries revolve around speed to market and innovation to result in increasingly more lightweight components. A few common applications we see demand for at Stratasys Direct Manufacturing for DMLS AlSi10Mg include:
Brake handles
Hinges, latches
Clips and other non-load bearing components
Steering knuckles
Small prototype housings
Complex brackets
Heat exchangers
DMLS is uniquely positioned to validate die cast designs using the same metals as the final production parts without the cost of tooling and associated lead times. DMLS is a great complement to prototyping die cast applications and to aid engineers in transitioning the most qualified designs from prototype to production faster.
This blog originally appeared on www.stratasysdirect.com/blog/dmls-before-die-casting.
---
Filed Under: Die casting, Flanges • supports • mounts • brackets, Rapid prototyping
---