The U.S. and 11 other nations have agreed today to the largest regional trade accord in history – The Trans-Pacific Partnership (TPP).
The TPP is being touted as a high-standard trade agreement that will provide new rules to help increase Made-in-America exports, and as such, grow the American economy and strengthen the middle class.
Read more: Vietnam Seems Big Winner in U.S.-Anchored Pacific Trade Deal
According to the Office of the United States Trade Representative (USTR), the agreement "levels the playing field" for U.S. workers by disciplining State-Owned Enterprises (SOEs). Most notably, the TPP eliminates more than 18,000 taxes that countries have been imposing on Made-in-America exports.
The tax cuts could help companies, such as Boeing, that has more than 70 percent of its revenue coming from customers outside the U.S.
Dennis Muilenburg, Boeing president and CEO comments, "Free-trade agreements create new opportunities for American companies and their workers … It's critical we provide our manufacturers and exporters with the best tools to compete on a level-playing field in markets worldwide."
The TPP is said to eliminate import taxes as high as 70 percent on U.S. automotive products exports to countries involved in the agreement, as well as eliminating import taxes as high as 59 percent on U.S. machinery products exports, and information and communication technology import taxes as high as 35 percent.
Secretary of State John Kerry commented on the successful negotiations, saying, "This historic agreement links together countries that represent nearly 40 percent of global GDP. The TPP will spur economic growth and prosperity, enhance competitiveness, and bring jobs to American shores."
The President also made a comment this morning, explaining that the agreement "strengthens our strategic relationships with our partners and allies in a region that will be vital to the 21st century. It's an agreement that puts American workers first and will help middle-class families get ahead."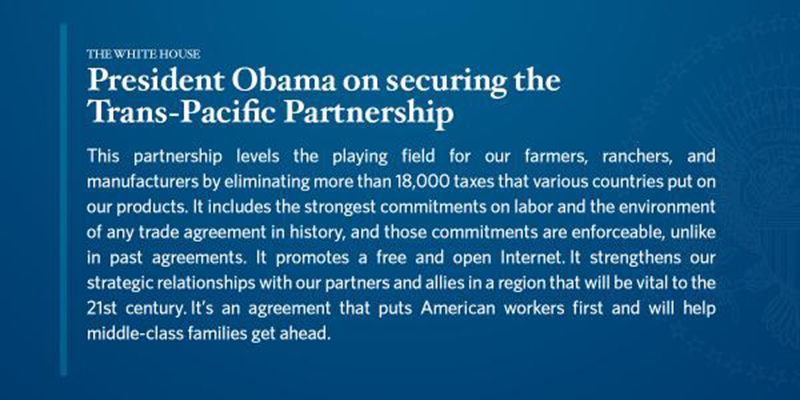 However, the trade agreement remains controversial, and many opposed to the agreement have expressed their concerns – mainly that the pact would do the opposite as promised: kill jobs and send companies overseas.
Scott Paul, the president of the Alliance for American Manufacturing tweets that the agreement features "no currency manipulation rules, weaker rules of origin, and projected manufacturing trade deficits," adding that TPP is not Made-in-America.
Several political figures have also expressed their plans to fight the agreement when it is introduced for debate in Congress.
The text itself (which reads 30 pages) is not yet available to the public – and it may not be made public for four more years.
Wikileaks has even publically announced a €100,000 reward for what it describes as "America's most wanted secret."
The site, which is infamous for leaking classified documents, explains "The treaty aims to create a new international legal regime that will allow transnational corporations to bypass domestic courts, evade environmental protections, police the internet on behalf of the content industry, limit the availability of affordable generic medicines, and drastically curtail each country's legislative sovereignty."
What are your thoughts on the trade agreement? Comment below or tweet me @melfass.
---
Filed Under: Industrial automation
---