The first voice-operated technology assistant for manufacturing made its debut at IMTS 2018.
"ATHENA, check coolant level." "ATHENA, warm up the machine." "ATHENA, read the 5-axis measurements." "ATHENA, report on the remaining tool life of the burnishing tool."
Developed by industry technology incubator iTSpeeX, ATHENA enables machinists to use simple voice commands to operate across control platforms and different types of machines, regardless of brand.
"ATHENA is a breakthrough, and the natural next step in an industry moving toward digitization," explains iTSpeeX Chief Architect Dan Bagley, who was interviewed by IMTSTV correspondent Hannah Coombs at IMTS 2018. "ATHENA bridges two worlds, the voice-operated technologies that make our lives more convenient and the machine tools that make manufacturers more competitive."
"Throughout the ages, the name 'ATHENA' has been associated with wisdom and counsel. Likewise, ATHENA listens to machine operators and enables them to accomplish their tasks more wisely."
ATHENA represents a solution to the manufacturing industry skills gap. The technology can increase efficiency in high-volume production facilities or in lower-volume job shops, enhance the skills of master machinists and speed up the learning process of apprentices. ATHENA can also support a worker operating one machine, a cell of machines or many machines.
Among ATHENA's current 10 functions, some of the most common include:
Report: Displays machine status, performance, and updates.
Control: Follows commands to warm up and run a job.
Coach: Displays diagrams, graphics and information on the machine's screen when the operator needs it.
Calculate: Measures cost-per-part, CPK, time remaining on program and remaining tool life.
Importantly, ATHENA is improving through implementation and gaining more functions all the time.
"ATHENA is not about size or scale, but empowering machine operators with technology that has increased the effectiveness of surgeons, pilots and other highly technical workers," says Dan. "We were very proud to introduce ATHENA at IMTS 2018. The visitor response was considerable. We are also grateful for the enthusiasm of our machine builder and distributor partners: Makino, Methods Machine Tools and OKK Corporation."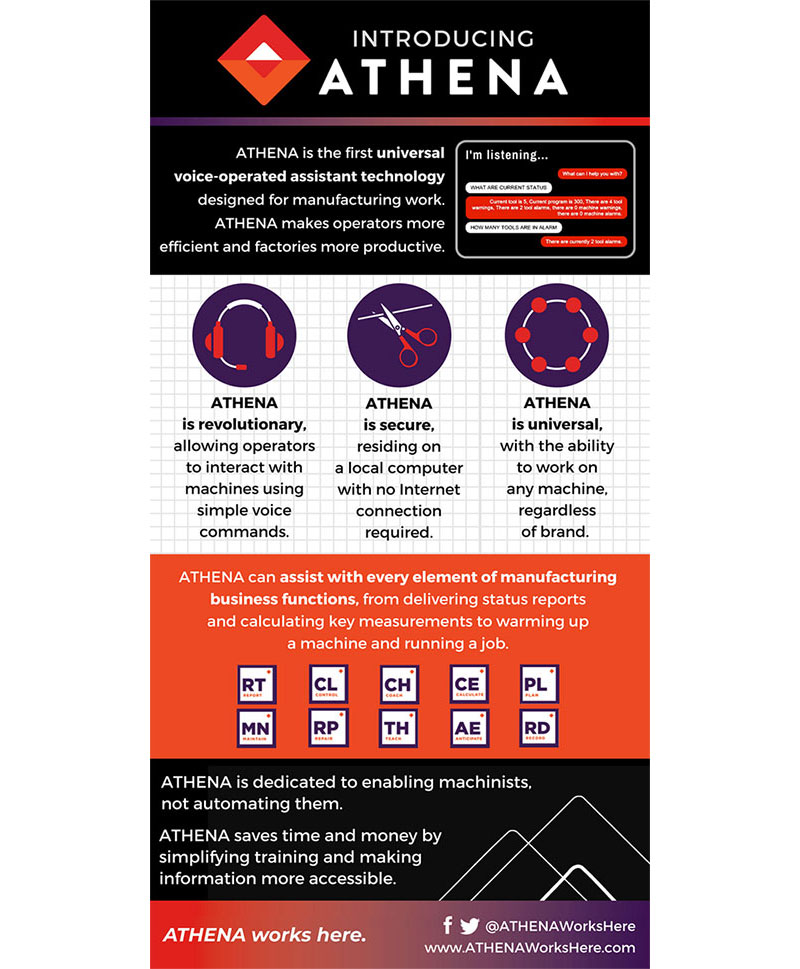 ---
Filed Under: Industrial automation
---