In this issue:
58 MOTION CONTROL: Minimizing stepper vibration with affordable technology
64 LINEAR MOTION: Encoders help linear motion stages reach higher levels of accuracy and performance
72 CONTROLLERS: Select the right machine controller for your application
---
What can you do with your creativity?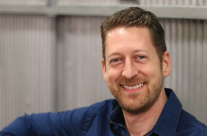 Engineers often get a bad rap as geeks who'd rather sit in front of a computer than interacting with others in a social setting. But we have a lot of creativity that is not always fully used in the workplace. When we find other outlets for our inventiveness, the rewards can be really rewarding.
Jennifer and Ivan Owen are inspirations to me. I heard Jennifer speak about her and her husband's work at NatureWorks' Innovation Takes Root Conference in Orlando (innovationtakesroot.com), and it was a brilliant example of engineering changing the world in a small but positive way.
Ivan, who I'd call a creative genius, fashioned a functional—but bizarre–metal hand as part of a steampunk costume several years ago. When he shared a video of it on YouTube, he received an email from a South African carpenter named Richard who had lost his fingers in an accident. Could Ivan help design him a hand with fingers, so he could work again? The cost for even one prosthetic finger was $10,000.
The two men began a relationship across 10,000 miles trying to figure out a solution and design a prototype using myriad materials: paper towel rolls, PVC pipe, leather rivets, surgical tape, even some of Ivan's kids' toys. Jennifer had been blogging about the progress, and this soon led to parents asking her if they could also help make hands for their children.
What Ivan and Richard developed was shrunk down and they successfully made a hand for a 5-year-old boy, Liam, also in South Africa. He realized that children would quickly outgrow these simple prosthetic hands, so Ivan reached out to Makerbot, which donated two 3D printers. Ivan taught himself to code and design, and perfected the hand.
Here's the kicker:
At this point, they realized that if there was one child like Liam in the world, there were thousands. Instead of patenting the design they had come up with, they decided it was too big to keep to themselves. They put it online—open source, public domain. So anyone, anywhere could make one for any child.
And the kindness blossomed. After Makerbot shared one of their videos, a university professor noticed that in the comments section, people with 3D printers were saying that they were willing to print hands for others.
They started a Google+ group where all the people that wanted to volunteer could collaborate and ask questions and get help from each other," Jennifer said. "We started with approximately 150 people in 2013. As of today it is over 8,000 people worldwide who are collaborating and helping create these devices."
These designs are basic hands with a grasping motion. They are nowhere near as robust as a traditional prosthetic, but they can be made for $30-50, versus $3,000-5,000 for traditional prosthetics. And kids outgrow these every six months to a year.
And people got creative, Jennifer said. "There were LED light fingertips. There are laser-pointers to terrify the cat. Superhero hands. Star Wars hands. You name it, it's out there."
I was touched by the selfless dedication shown by this young family, to take this new technology and use it to better our society. We should all strive to do more with the creativity that inspired us to become design engineers. I know so many engineers who graciously volunteer their time, be it at programs like FIRST or as math tutors in their city—and I hope that the Owens' story inspires you to take stock in where you're giving back and how you can best make a difference.
If you're interested in donating your time or resources to the Owens' cause, please visit enablingthefuture.org.
---
Filed Under: 3D printing • additive manufacturing • stereolithography, DIGITAL ISSUES
---