Pacific Power Source is pleased to announce the release of a comprehensive update of its suite of test routines designed to test both AC and DC products for compliance with Airbus standard ABD0100.1.8.1, "Electrical and Installation Requirements." The ABD0100.1.8.1 test standard is largely based on the DO160, Section 16 standard published by the Radio Technical Commission for Aeronautics (RTCA), a private, not-for-profit Corporation that develops consensus based recommendations regarding communications, navigation and air traffic management for commercial aviation. There are several adaptations and deviates from DO160 however that necessitates the need for a dedicated suite of test routines.
Available as an integrated option package running inside Pacific Power Source's PPSC Test Manager Test Executive program, the ABD0100.1.8.1 option includes the latest revision C test sequences for both AC and DC power groups. Power groups include single and three phase, fixed 400Hz frequency as well as single and three phase, variable frequency power groups, covering the frequency span of 360Hz to 800Hz. The LDC 28Vdc power group is now supported as well on the AFX Series AC and DC power source family. Test sequences for AC with DC offset testing have been added as well.
Detailed test reports in Rich Text Format are generated automatically at the end of each test run. Included test report templates can be customized by the operator with the end-user
The new Pacific Power AFX Series programmable power source support both AC and DC testing. As an integral part of the PPSC Studio software, the ABD0100.1.8.1 test option AC test sequences are also supported on the Linear AMX Series AC Power Sources for AC testing only.
"We are pleased to add this new capability to both new and existing customers of Pacific Power Source products. This latest upgrade allows our customers to continue to get additional use and value from their AC and DC Power Source investment and saves them a considerable amount of setup and programming time when performing these compliance tests," according to Herman van Eijkelenburg, Director of Marketing for Pacific Power Source.
Target customers for this new ABD0100.1.8.1 test option are EMC Test Labs involved with commercial aviation product certification and testing for Airbus suppliers. Also, manufacturers of AC and DC powered avionics equipment that need to certify their products to the Airbus A380 standard can use this option to check for compliance during early stages of product development.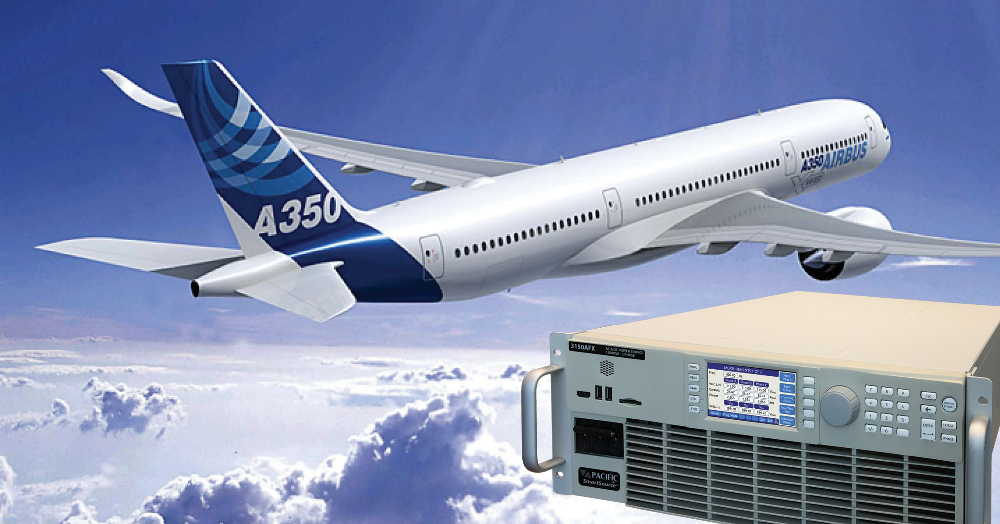 ---
Filed Under: Aerospace + defense
---