Unless you're a professional skateboarder, I might be weary riding on this electric skateboard that goes 45 mph. Now, Bajaboard is reaching top skater speeds with their eight-kilowatt electric skateboard called the Pantera.
With Pantera's four 3.5 kilowatt motors, a 10S, 1.1 kWh battery pack, and four 110 amp motor controllers, the board reaches its top power at 8 kilowatts or 10.7 horsepower. Additionally it can ride for 28 miles at uncanny speeds of 45 mph.
"We thought, 'If we put all cost considerations aside, how much power can we stuff into a little box?'" says Bajaboards' George Li, according to New Atlas. "It was more of a technical demonstration than anything else, but we thought we'd make it into something that's available for a very niche consumer. Obviously, it's for private property and not public roads.
"We haven't made it to top speed yet in testing. We don't have the cojones to go that fast! We're still looking for an open patch of airfield or something to runs some tests. We've done acceleration tests and all that kind of thing. I think we've only been pulling about 70-80 percent. You can't stay on the thing at full throttle. Even the G4X, we can't pull full throttle. We look at this board as a bit of an ego thing, a show-off thing, like a supercar. It's not necessary. You're hardly ever going to open it right up and try to use all the power."
Currently no records have been set with the Pantera since Nextboard clocked speeds at 59.55 mph on a runway. But, Bajaboards may have the option of fitting larger controllers and batteries into the Pantera to attempt a new record.
If you're not in the mood to set records, the board can be set to go on lower speeds. Additionally, the Pantera has the ability to turn itself around with a burnout action called "tank mode." Other features include an adjustable suspension, alloy rims, and custom head and taillights.
Li says the board will run at a price "around what a mid to high end mountain bike costs. It's certainly not a mass market thing, but it's an attention grabber for sure!"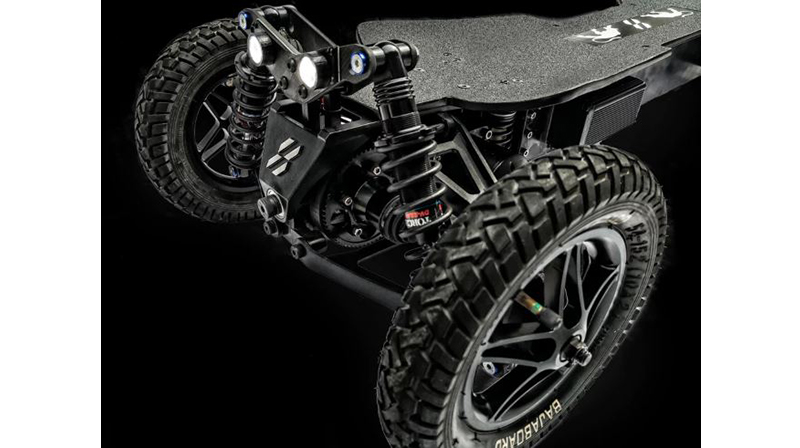 ---
Filed Under: Product design
---