Boothroyd Dewhurst, Inc., developer of Design for Manufacture and Assembly software, announced the availability of DFMA 2019 for analyzing parts and assemblies to reduce part count, control cost, and improve quality, performance and manufacturing efficiencies. Using DFMA, engineering and manufacturing teams are better able to assess part-assembly strategies, learn new design skills, benchmark existing and competitor products, add focus and structure to design reviews, integrate design and manufacturing, and support system-wide decision making.
"DFMA methods and data analyses are guiding engineers to reach the limits of what is possible in single-part functionality and economics," says John Gilligan, president of Boothroyd Dewhurst, Inc. "Our new software makes this journey to an optimal manufacturing outcome easier and more productive than ever."
Features include:
New CAD calculators allow users to utilize more cost driver information directly from a 3D model. Over 200 data inputs across 27 process groups and over 100 machining operations include this new feature. Should-costing of parts is faster and easier for designers, cost engineers, and purchasing personnel.
New graphical windows, charts and reports for engineering and top management that make comparisons between legacy designs and new concepts easy to analyze. Parts and assemblies can all be compared for time and labor, along with costs for manufacturing piece parts, manufacturing tools, assembly tools, assembly processes and all material aspects of product development.
"We have recently deployed DFMA 2019 across a number of product sectors," said Bill Devenish, global DFMA leader and principle engineer at Kohler Company. "The software's new reporting features have improved our capacity to quickly present outcomes to key stakeholders. Embedding the calculations for time and cost differences between design options also saves us time and reduces opportunities for clerical errors. Additionally, we are impressed with the ability to obtain dimensional data from the CAD models in DFM, which has resulted in faster "should-cost" analysis. This is a very user-friendly feature that takes the guesswork out of dimensionally defining key part parameters."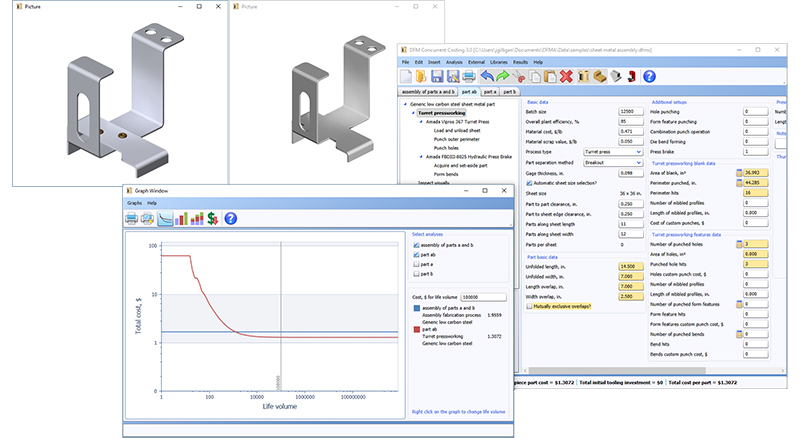 ---
Filed Under: Product design
---