By Jerred Davis, Assistant Product Line manager, Rittal Corp., Urbana, Ohio
US panel fabricators are becoming more aware of the design and cost benefits of busbar systems for getting a more secure foothold in the global marketplace.
European companies have long preferred Busbar power distribution systems for industrial control panels over the power-distribution block and cable wiring methods traditionally used in the US. However, recent improvements in busbar flexibility, safety, component standardization, and dropping costs for hardware and installation are making them more attractive for systems integrators and US designers. Panel fabricators of all sizes find that standardized busbar systems in particular make them able to compete better in a global market.
Specific benefits
Busbar systems have several unique design advantages. First, they replace the power-distribution blocks and line-side wiring in traditional systems, which often reduce the size of individual enclosures or combine the contents of multiple enclosures. Busbars eliminate the large, hard-to-handle, parallel cables that connect from the main disconnect to the power distribution block and all the wiring from the block to individual components. They also eliminate the time required to measure, cut, label, strip, and route the individual cables and wires. Furthermore, busbar systems reduce the cost and the time to connect drives, circuit breakers, and large, parallel cables between the main distribution block and devices in adjacent enclosures.
Secondly, standardized components such as fuse bases, circuit breakers, and control modules come with adaptors that let them fasten to busbars of any size. For example, a 700-A, 30 by 10-mm busbar system can connect to the same fuse bases, circuit breakers, and control modules as a 350-A, 15 by 10-mm busbar system with simple, interchangeable adaptors. Moreover, this flexibility and standardization lets busbar systems fit with the electrical regulations of any country. They meet worldwide UL/cUL, CE, and GL requirements for rated current, short-circuit current, and specific busbar/ambient temperature ratings.
Busbars mount directly to the enclosure or a panel. Because they are designed to let all components clip or clamp to them, the time required to drill numerous holes and mount the components to a panel with various types of fasteners is eliminated. By comparison, a block-and-cable system with ten circuit breakers and five fuse blocks need at least 30 drilled and tapped holes — two for each device: A busbar system needs only eight. This considerably reduces the cost of manual labor. Connection adaptors also replace ring terminals and cable lugs, so they eliminate the cost to measure, cut, and strip wires. Similarly, component adaptors save time because they quickly handle DIN-style starters, contactors, and miniature circuit breakers, as well as panel-mounted circuit breakers and fuse blocks. Furthermore, in some cases, the main disconnect circuit breaker may be bus mounted, which reduces panel space requirements and simplifies power distribution to downstream devices.
Certification, safety, and maintenance
Power distribution practices and electrical codes may vary among different countries, but standard busbars meet all the requirements of international certification agencies such as UL, CE, CSA, and GL by design. This means they automatically comply with safety, certification, and organization standards. By comparison, power-distribution block-and-wire systems do not necessarily comply: Each installation has to be individually certified. Thus, busbar systems obviously eliminate delays in installation and certification.
Safety is also designed and built into internationally accepted busbar systems. Bottom, side, and top covers prevent loose parts, tools, and people from contacting live busbars. In addition, locking covers and shrouds surround the connections to circuit breakers and fuses, which make busbar systems much safer than block-and-cable systems that lack similar protection.
Busbar systems also have superior organization. They are flexible, and easy to expand, troubleshoot, and maintain. Flexibility plays an important role here because often, from the time a system specification is written to the time it is commissioned, it may go through many revisions, so changes must be handled quickly. And even after commissioning, a system must be designed initially to accommodate additional components for future expansion. Unlike power-distribution block-and-cable systems, new components can be snapped onto component adaptors, terminated, and quickly clamped onto the unpopulated parts of standard busbar systems.
Maintenance and trouble-shooting procedures are also easier to use for busbars than power-distribution block-and-cable systems. For example, line-side wire tracing is eliminated, and components are replaced faster on busbar component adaptors. Perhaps more important than maintenance, replacement components for busbar systems are readily available from companies located around the world.
Discuss this on the Engineering Exchange: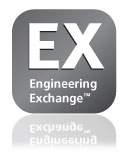 Rittal Corp.
www.rittal-corp.com
Jerred Davis holds a Bachelor of Science degree in electrical engineering. He provides product management and customer-specific applications support for Rittal power distribution and industrial enclosure systems.
---
Filed Under: Cables + cable management, Electronics • electrical, Power supplies
---