Concurrent Technologies, maker of embedded systems, has launched a 10 Gigabit Ethernet switch designed for harsher environments than most rack mount servers with equivalent SWaP metrics. It draws just 5.7 amps of 5V power or 1.8 amps of 3.3V power, an impressively small draw for a board with this much functionality.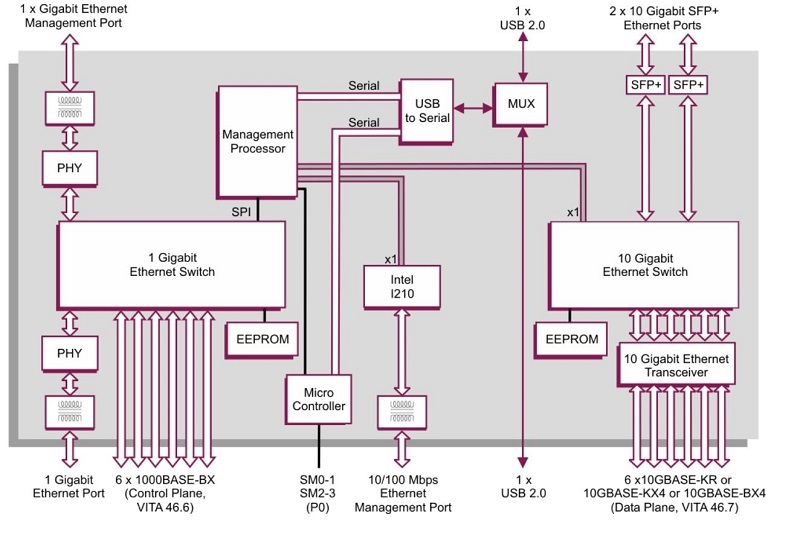 The FR 351/m06 3U VPX switch can pair with Concurrent Technologies' TR C4x/msd to offer up to 96 Intel Xeon cores and 192GB of DDR4 memory.
The built-in management processor is confiigured from web pages accessed through a network interface or from a command line interface, making it easy to use. The 80Gbps of non-blocking switching allows for 10 Gigabit data connectivity across six VPX payloads, as well as two additional 10 Gigabit Ethernet SFP+ ports on the front panel (in the case of the air-cooled variant).
"This new switch enables our customers to construct server class solutions that can analyse, encrypt and transcode data in harsh environments," said Concurrent Technologies CEO Glen Fawcett. "It has been designed in response to a number of customer requests to migrate applications from rack mount servers that operate in a data centre, to a smaller and more rugged format. This type of application complements our traditional solution of a switch and single processor at the centre of an I/O centric system."
Initially released in September for shipment in the third quarter of 2016, FR 351/x06 is currently undergoing testing for the rugged, conduction-cooled variant, which will ship later.
---
Filed Under: Rapid prototyping
---