NASA's Mars Science Laboratory (MSL) Rover mission is supposed to go up in 2009. On board will be a specially designed device to handle coring operations, the Mini-Corer from Honeybee Robotics Spacecraft and Mechanisms Design Company. Initially, NASA requested a combination abrading and coring tool. That hybrid unit would have consisted of Honeybee's existing Rock Abrasion Tool (RAT) and Mini-Corer (MC) designs. However, it now appears the abrading and coring operations will be done separately, necessitating a stand-alone Mini-Corer.
The Rock Abrasion Tool (RAT) was used in the 2003 Mars Exploration Rovers Mission and continues to operate on Mars today. It grinds the surface of rock 5 mm deep, uncovering layers of soil to reveal near-surface stratigraphy. Engineers operate the RAT
remotely from their New York City offices.
For the upcoming Mars mission, though, the Mini-Corer will need to manipulate and move around seventy-four cups of Mars dirt, presenting it to several science stations, including two ovens. Each cup of dirt will be inserted and hermetically sealed in an oven. The oven will then cook the sample and analyze the gases that burn off. This instrument represents about 85% of the all the science the MSL will perform.

The shoebox-sized enclosure of the
Mini-Corer seals the interior from dust and acts as rigid structural
housing. Inside this box is a smaller box that contains the motors,
gearing, and a shaft that spins the drill for coring.

The demands of space
Space can take a toll on devices. Material shrinkage from cold temperatures is one
factor as is vibration. A space-bound device must also withstand the 62 Gs produced
during launch. To ensure the Mini-Corer will handle the harsh demands, engineers tested it in a thermal-vacuum chamber with temperatures that go down to –70 C.
NASA's Jet Propulsion Laboratories (JPL) wanted the Mini-Corer to be part of a mobile robot that could withdraw rock samples from Mars' surface without being disabled by
environmental dust. The MSL's capacity and all the other equipment it has to carry dictated size and weight. Therefore, the shoebox sized enclosure of the Mini-Corer will be made of albemet, a combination of aluminum and beryllium, rather than pure aluminum.
The outer box seals the interior from dust and acts as rigid structural housing. The smaller inner box contains the motors, gearing, and a shaft that spins the drill for coring. These boxes double seal the Mini-Corer to prevent dust from getting into the gears and bearings.
On an acme screw, the small box uses two double-wide linear bearings from NB Corp. to slide six inches up and down two linear slide rails inside the big box. When the Mini-Corer drills, the drill shaft is pushed into the rock. The coring bit, which is 5 cm (about 2 in.) long and 8 mm in diameter, can take 1-in. core samples.

The engineers wanted to make the Mini-Corer light and stiff. The double wide linear bearings provided more stiffness and rigidity than the engineers could achieve with two standard width bushings. Plus, two bushings in a housing may still 'give' at the break, which is not a problem with a doublewide bushing.
Notes Mike Maksymuk, systems engineer at Honeybee, "In order to core rock and take samples, we wanted a stable linear slide. The forces and torques that the two double-wide linear bearings can handle proved sufficient because they distribute load evenly. Imagine coming down on a rock with a drill moving forward without cutting rock perpendicular to its surface. That motion would put a lot of side load back into the tool. If the drill shaft flexes too much, it will not drill efficiently. The torque needed to drill into the rock could cause problems too. If the drill gets stuck, the loads are transmitted back into the whole unit. We needed something really rigid to prevent the tool from flexing."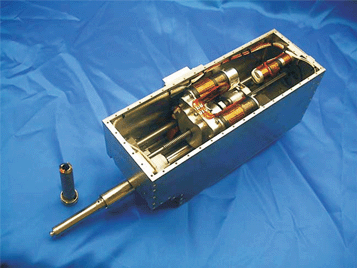 On an acme screw, the small box uses two
double-wide linear bearings from NB Corp. to slide up and down two
linear slide rails. The 5 cm long coring bit can take 1-in. core
samples.

A change of bit
The Mini-Corer can acquire, break, retain, and transfer consolidated and unconsolidated cores, and change-out different end-effectors and bits if they get dull. The engineers found a way to add bit change-out without adding motors to the design. The same mechanisms that function as a coring tool were tweaked to allow the Mini-Corer to drop worn bits and put on new bits. It is an arm-mounted, stand-alone device, requiring no additional arm actuation once positioned and preloaded. A compact internal low-mass transmission provides all the motor power used by the tool mechanisms.
The drill has been tested and fares well in harsh desert environments. Testing indicates that 8 mm carbide drill tips start to dull after drilling ten 30 mm cores into basalt with a
compressive strength of over 100 Mpa.
The Mini-Corer weighs less than 2.8 Kg (6 pounds) and measures less than 270 mm (10.6 in.) x 112 mm (4.4 in.) x 100 mm (4 in.). It will be expected to obtain two, 25 mm long and 8 mm diameter cores from a single hole of a strong rock. The compact, low mass,
device can drill 25 mm into strong basalt in less than six minutes while consuming less than 20 watt-hours of power. The Mini-Corer's carbide cutting teeth require a minimum of torque to keep the unit's power needs low.

NB bushings provide the stability and
ridigity needed for the Mini-Corer to drill into rock. The bushings are
available in single, double-wide, and double-wide with flange widths.

Honeybee Robotics Spacecraft and Mechanisms Design Company
Web: www.honeybeerobotics.com
:: Design World ::

---
Filed Under: Aerospace + defense, Mechanical
---