Tech-Etch offers EMI shielding D-Connector gaskets in a wide variety of materials. Five standard sizes of 9, 15, 25, 37, and 50-pin configurations are available in Stainless Steel, Beryllium Copper, X, Y, Z axis Conductive Foam, and Metalized Fabric consisting of a metalized fabric over a polyurethane foam core.
Additionally, four conductive elastomers fill out the D-Connector product line. Series 1000 Supershield is a silicone elastomer filled with conductive metal particles to provide high EMI shielding effectiveness and an environmental seal. Series 4000 Multishield is a composite material containing excellent EMI shielding with an efficient environmental seal. Series 5000 Monoshield is intended for applications where the gasket is limited to 0.02 in. thickness and gap irregularities do not exceed 0.003 in. Series 5500 Weaveshield is a composite EMI shielding and pressure seal gasket material used for very small gaps having a joint unevenness of no more than 0.002 in.
The material is comprised of a woven aluminum wire screen impregnated with either a neoprene or silicone elastomer. Custom gaskets can be manufactured to customer specifications. A global leader in shielding technology, Tech-Etch, Inc. manufactures standard and custom shielding products for both the commercial and military markets. Samples and full specifications are available from the website.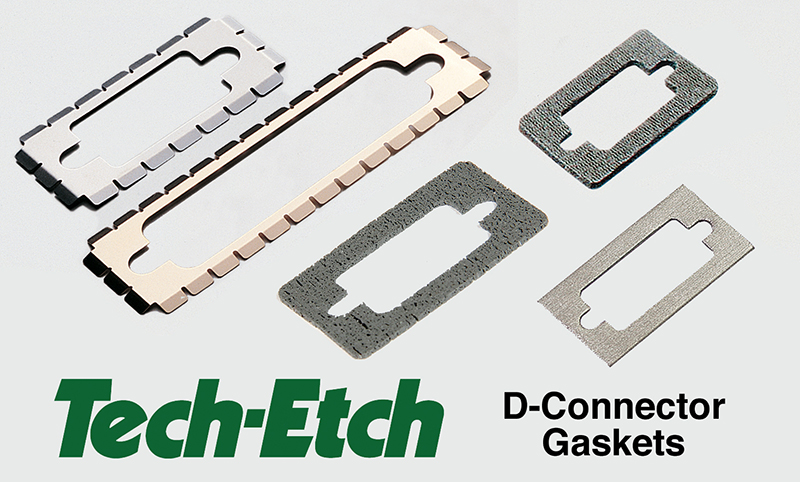 ---
Filed Under: Connectors (electrical) • crimp technologies, Materials • advanced
---