Designers of industrial equipment striving to meet the size, power and performance requirements of Industry 4.0 applications can now turn to an expanded family of digital input devices from Maxim Integrated Products, Inc. One of the new devices, MAX22192, is integrated into the company's Go-IO programmable logic controller (PLC) reference design, also announced today.
As manufacturing becomes increasingly automated, there is a stronger need for real-time decision-making and feedback-loop mechanisms. These intelligent Industry 4.0 systems require digital input ICs inside the PLCs to receive on/off status signals. Yet, for ease of integration throughout manufacturing environments, the devices must be robust, high-performing and compact.
Maxim's expanded portfolio of IEC61131-2-compliant digital input devices offers the industry's smallest solution size (by as much as 50%), features the lowest power dissipation (by as much as 60%), is up to 6x faster and has the most robust performance (integrating 1kV of surge protection and integrated diagnostics). In addition, the family also includes a parasitically powered digital input that reduces power dissipation by up to 60 percent and does not require a discrete isolated power supply.
The newest digital input devices include:
MAX22190 8-channel octal digital input with Serial Peripheral Interface (SPI), accurate input current limiters, built-in surge protection of >1kV and wire break detection in a 5mm x 5mm package
MAX22191 single-channel, parasitically powered digital input with accurate input current limiters and 250ns (max) propagation delay in a 2.8mm x 2.9mm package
MAX22192 8-channel octal digital input with isolated SPI, wire break detection and accurate input current limiters in a 6mm x 10mm package
MAX22195 high-speed octal digital input with parallel output and accurate input current limiters, 300ns (max) propagation delay, parallel interface, low power, low heat dissipation, fault tolerance with built-in diagnostics, configurability and a robust design in a 5mm x 5mm 32-TQFN package
These products enhance a digital IO family that also includes the MAX14912 and MAX14913 octal high-speed, switch/push-pull driver with integrated surge protection, diagnostics and fast/safe demagnetization; the MAX14914 universal digital IO with surge protection, high-side switch/push-pull driver/digital input and an SPI interface; and the MAX14483 6-channel, high-density, high-speed, low-power digital isolator optimized for daisy chained SPI applications.
Key Advantages
Smallest Solution Size: adds robust functionality to the PLC in a 50 percent smaller footprint than comparable solutions to empower adaptive manufacturing
Reduced Power Dissipation: a parasitically powered digital input reduces power dissipation by up to 60 percent and does not require a discrete isolated power supply
Most Robust Performance: all parts in the family have on-board diagnostics, while individual parts offer performance-enhancing features including:

Built-in >1kV surge protection for increased system robustness and the elimination of eight external transient-voltage-suppression (TVS) diodes
Extensive diagnostics such as open-wire/wire-break for increased factory uptime​

High Speed:

6x faster digital inputs than industry alternatives
Commentary
"With increasing decentralization and miniaturization of industrial process control technology, Mouser's customers seek leading power control options. Maxim's new family of digital inputs provides the small size and high performance needed across a vast spectrum of automated factory equipment," said Kristin Schuetter, vice president of supplier management, Semiconductors, at Mouser Electronics.
"Maxim is committed to providing a superior, robust family of digital IO devices with many flavors to meet the varying demands of automated manufacturing environments. The newest digital input products are poised to help take adaptive manufacturing to a new level," said Tim Leung, director, business management, Industrial Communications Business Unit, at Maxim Integrated.
Availability and Pricing
The MAX22190, MAX22191, MAX22192 and MAX22195 are available at Maxim's website for $2.73, $0.57, $5.22 and $2.20, respectively (1000-up, FOB USA); they are also available from authorized distributors
Evaluation kit pricing is as follows: MAX22190EVKIT# for $72.00, MAX22191EVKIT# for $43.00, MAX22192EVKIT# for $72.00 and MAX22195EVKIT# for $72.00
IBIS models are available for the newest products. See "Design Resources" on each product's webpage.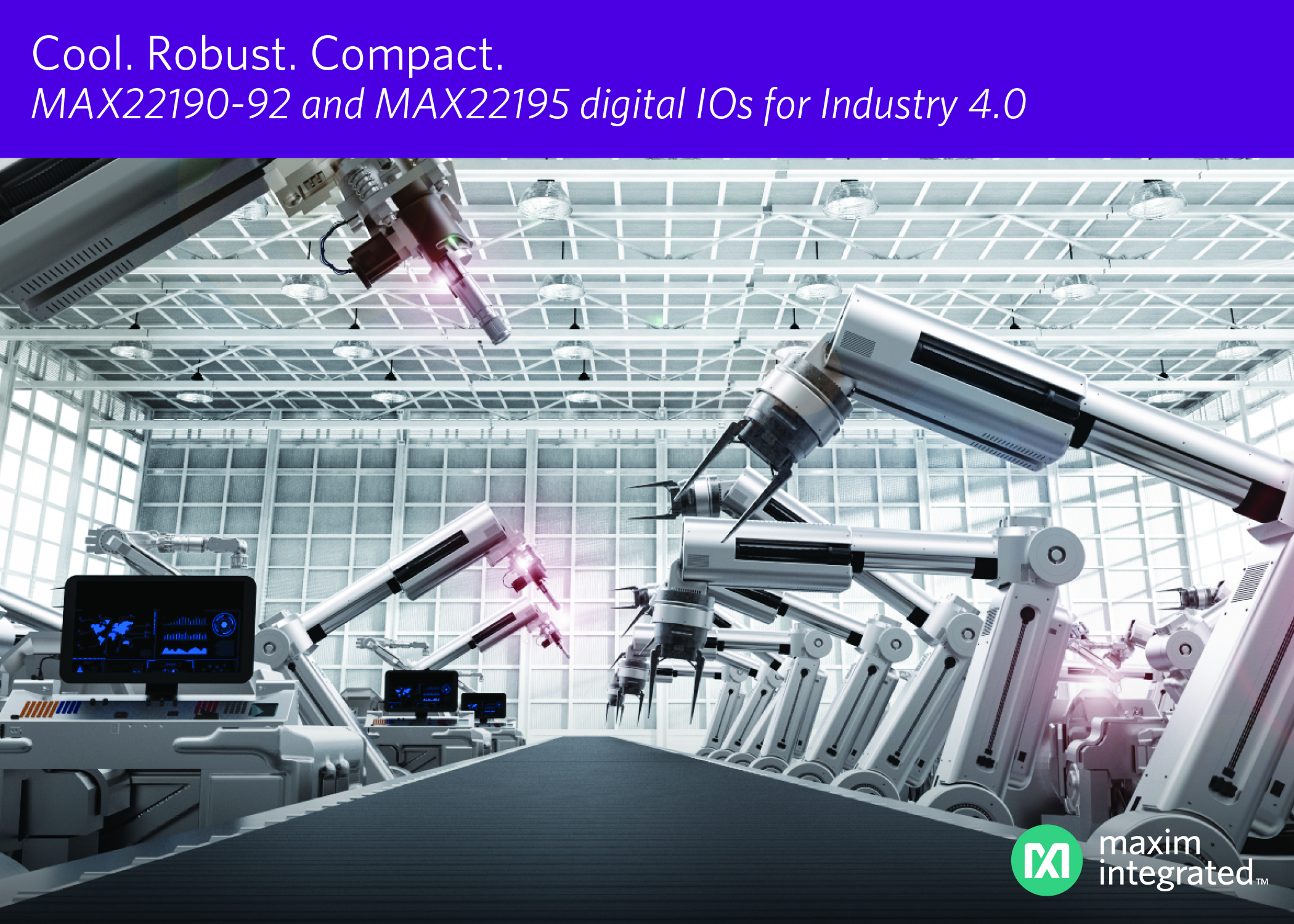 ---
Filed Under: Industrial automation, Surge protection
---