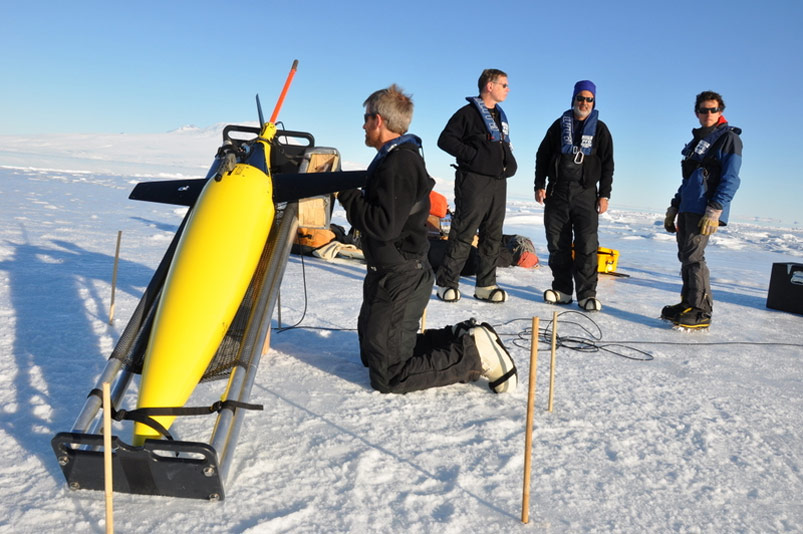 A literal "cold" war.
The United States Navy is currently deploying underwater drones in the Arctic Ocean to assess how quickly the ice is melting. Not only does the information help researchers develop more accurate computer models to predict the rate of melting in the future, but it also gives the Navy a leg up over Russia in the region.
According to the Navy's 2009 Arctic Road Map (via Scout Warrior), climbing water temperatures (leading to less ice and more open water) means the service will need to increase the number of ships in the region over the next two decades in order to accommodate the increase in maritime transportation and competition for natural resources.
"The Arctic is warming twice as fast as the rest of the globe," the text states. "While significant uncertainty exists in projections for Arctic ice extent, the current scientific consensus indicates the Arctic may experience nearly ice free summers sometime in the 2030's."
For a more accurate sense of how quickly these changes will occur (and to better prepare for them), Office of Naval Research (ONR) scientists are using unmanned underwater autonomous robots like the 110-pound Seaglider. Packed with sensors, the drone is programmed to receive "pings," or acoustic signals, from underwater sources. These objects are suspended on cables beneath buoys frozen into the ice at fixed locations, yielding precise latitude and longitude information.
This, in turn, informs scientists where the Seaglider is—and what the temperature and salinity measurements are for the water column in that specific location.
Both variables help scientists understand how much the water column (down to a depth of 1,000 meters) is being exposed to wind and sunlight, potentially raising its temperature and quickening the pace of melting ice.
Adding fuel to this metaphoric, ice-melting fire, Russian President Vladimir Putin plans to increase Russia's presence in the region: more waterways means more Arctic shipping routes; and as it stands, the Russians operate several "ice-breaker" ships that break up the ice for commercial vessels passing through the region, granting them safe passage—for a price.
Politics aside, however, the Navy's Arctic drone efforts enables the ONR to explore how weapons and sensors operate in the cold—leading to more effective technologies and improving the Navy's ability to operate in harsh environments.
---
Filed Under: M2M (machine to machine)
---