Scorpion is a multi-mission, 'back-packable' unmanned ground vehicle that has been developed by Endeavor Robotics for the U.S. Army's Common Robotic System-Individual (CRS-I) program.
The bot came to life in April, weighs less than 25 lbs., and is a running finalist, with one other competitor, to receive the $429 million contract to build and manufacture up to 3,000 winning robots. The winner is scheduled to be chosen at the beginning of 2019.
"If selected for CRS-I, the Scorpion robot will be used by Explosive Ordnance Disposal (EOD), Infantry and other Soldiers to help our military take on tomorrow's challenges today," said Sean Bielat, Endeavor Robotics CEO. "In the same way every Army unit has long had a Soldier designated to carry a radio on his or her back, fighting units will soon include a robot operator with a Scorpion-like UGV carried in their rucksack.
Scorpion will feature a universal controller with uPoint and MOCU-4 software, an easy-to-use touchscreen that has picture-in-picture video streaming, seven cameras, preset poses to position the robot, and a manipulator arm. The arm has been designed to reach further, and can extend 24 inches, while lifting up to 15 lbs. and rotating 360-degrees. The cameras provide the operator with HD-day and night situational awareness, and the robot can be repaired in the field using 3D-printed parts. The open-architecture design allows Scorpion to be configured for EOD, Infantry, engineer, or CBRN missions.
The robot is prepared to take on all different types of terrain including wet or submerged environments, and can even climb stairs.
"We've packed all our battle-tested expertise building unmanned vehicles into this innovative new system," Bielat said. "Scorpion represents a powerful combination of smart technology and superior engineering."
View the robot in action on Endeavor's Facebook page.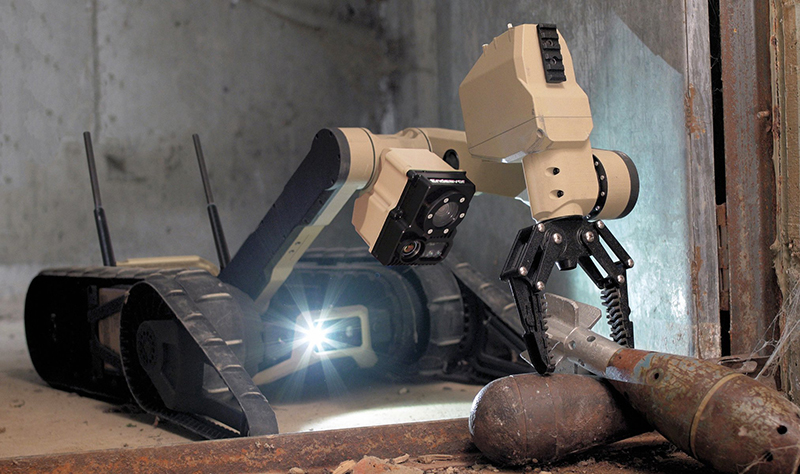 ---
Filed Under: Aerospace + defense, Robotics • robotic grippers • end effectors
---