The ability to design, test and manufacture larger parts using robust and reliable 3D printing/ additive manufacturing systems, that are fully accessible in terms of capital expenditure and integration into existing workflows is highly desirable, according to FELIX market research.
The drive by FELIXprinters to develop and produce holistic additive manufacturing solutions for industrial clients has taken another leap forward. The company has announced the FELIX PRO L and XL models to its portfolio of 3D printers. These two 3D printers take the company's dedicated focus on precision technology and scale it up.
Does size matter?
Sometimes, it really does, particularly when constricted by the typical build size of desktop 3D printers. The FELIX Pro L and XL 3D printers have been developed with greatly increased build volumes, up to 144 Litres (the Pro L can build parts up to 300 x 400 x 400 mm or 11.8" x 15.75" x 15.75"; while the Pro XL has a build chamber of 600 x 400 x 600 mm or 23.62″ x 15.75″ x 23.62″). To ensure the quality and reliability upon which FELIXprinters has built its reputation, both of these larger systems incorporate highly engineered print chambers, which incorporate an enclosed warm zone and a cold zone. The warm zone supports consistent temperature control during the build, which is particularly important when printing materials with a high shrinkage factor, such as ABS, carbon fiber or Nylon. In contrast, the cool zone is where the electronics are housed, to prevent overheating and subsequent machine/build failure.
With the scale up, however, both the Pro L and Pro XL have also been designed specifically to be easily portable — at installation or within a manufacturing setting. Both can be easily transported through a normal office door opening (900 mm).
The new Pro L and XL system also come with a range of other automated and intelligent features that remove many of the tedious and time-consuming hurdles often associated with additive manufacturing and speeding up the overall process. A stand-out example of this is the design of the dual nozzle. When the dual extruders are printing together they are at different print levels, avoiding any collisions and minimizing print failure. Moreover, if one nozzle is idle, it is automatically rotated out of the way so that there is no interference with the printed part, again avoiding damage to the print (and print failure).
The Pro L and XL models, like the recently launched Pro 3 system, feature an intuitive and large 18 cm (7") touchscreen module, with integrated print-server. This small but powerful octacore computer offers users key functionality for their day-to-day operations, reducing workflow bottlenecks commonly experienced with 3D printers. Functions include real-time remote webcam monitoring, multi-user control via a web interface, easy print file management, WiFi and Ethernet connectivity, the ability to render g-codes, and the ability to create a time lapse of the print. With the touchscreen, the printer can be accessed via USB and/or WiFi and the unit can be connected in a (LAN) network or standalone. For a network setup the unit can control up to 7 stations for a single point. All of these features have been developed with the user in mind, based on what industrial users have told FELIXprinters they want.
Guillaume Feliksdal, Founder and Director of FELIXprinters, commented on the development of the L and XL: "Our users have been telling us that they need options to create bigger parts, but without compromising on quality. However, delivering on this is not just a case of scaling up the architecture of our Pro 3D printers. With the Pro L and XL, we have used all of our experience in precision engineering to develop what we believe is a great new and offering to the market that ensures FELIXprinters' commitment to robust and reliable 3D printers is manifested in these large scale systems, while making it possible for them to quickly and easily benefit from the advantages of additive manufacturing, without the hassle. These bigger machines can fit seamlessly into any workshop, lab or factory environment because they can fit through a standard doorway, to make the logistics of installation quick and simple too."
As many industrial sectors have shifted their manufacturing workflow to incorporate additive manufacturing, FELIXprinters has repositioned itself and its portfolio to serve the changing needs of industry. This is achieved through careful attention to detail, listening to what customers say is important to them and developing products and features to meet their needs. The Pro L and XL models take this to the next level.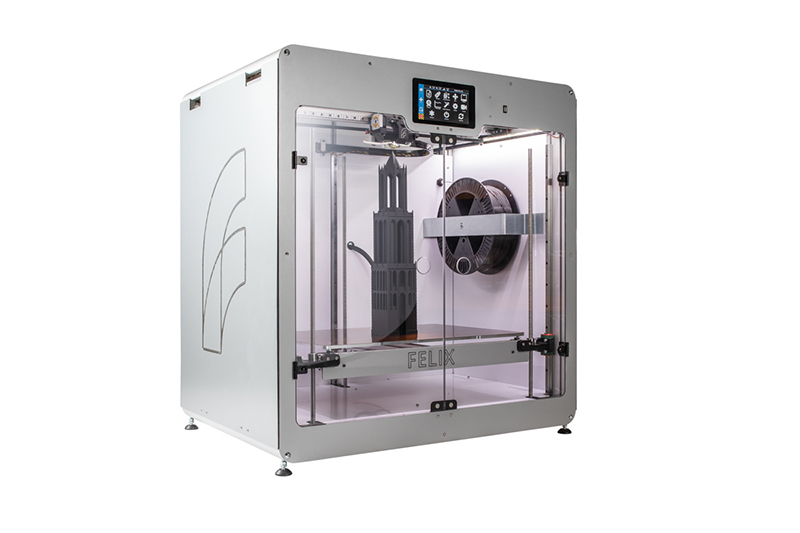 ---
Filed Under: 3D printing • additive manufacturing • stereolithography, Product design
---