Fenik has spent four years developing a "fridge" that's eco-friendly, doesn't use electricity and won't require a trip to the gas station for ice, according to Kickstarter. Now, Yuma 60L is an all-natural way to preserve foods by using only water.
The Fenik coolers can be set up in seconds, but deconstructs to be completely flat so it's easy to lug around and transport. It is roughly the size of a standard pillow-case, and can be assembled by popping in four fiberglass stays. The cooler is designed for fruits, vegetables, beverages, dairy products and snacks that might melt like your chocolate.
Once you fill the walls of the cooler with about 4 liters of water, your device is ready to go. Fenik recommends topping off the Yuma 60L with water every morning if you're using consecutively. Just use water to keep the cooler's temperature cold, fill it with food and let the magic work inside as the temp drastically decreases.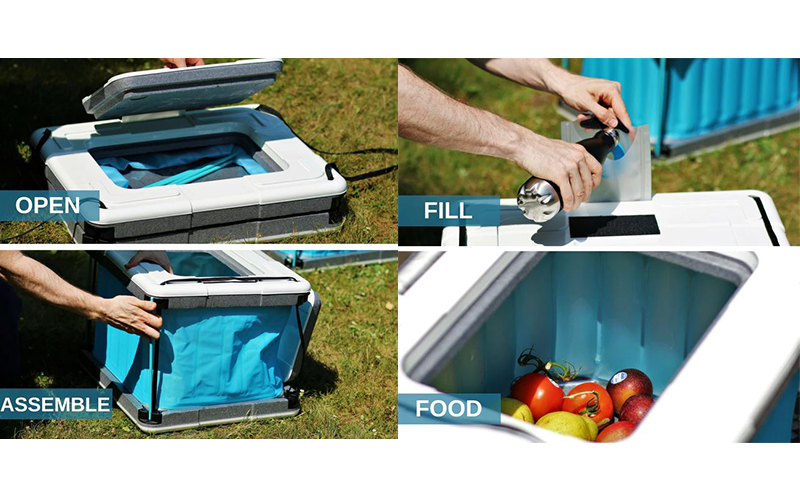 Fenik Yuma 60L uses something known as evaporative cooling to store water within the walls of the device. The walls are made from a smart material called PhaseTek that allows water vapor to evaporate from the sides of the box without allowing water to leak out. When the water evaporates, heat energy is pulled from the inside of the box. This decreases the temperature an average of 10 to 20 degrees Fahrenheit from ambient conditions, and even more so in dry environments.
Fenik's mission isn't to develop coolers that help "glampers" camp in style, but to help the millions of people who lack access to electricity. Ultimately, they hope to help out families who are in tough spots by providing a product that can help improve their lives.
They have already been working throughout Morocco and are collaborating with USAID to conduct a large scale development project.
---
Filed Under: Rapid prototyping
---