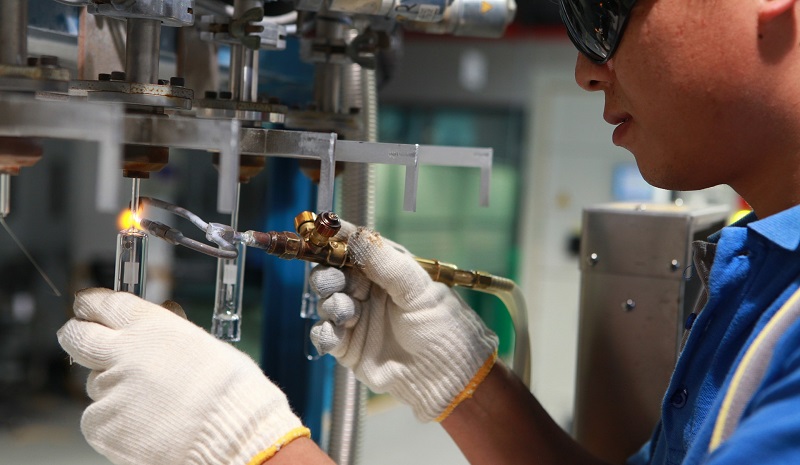 GE and PTC have joined forces to market a GE-branded manufacturing offering using PTC's ThingWorx Industrial Internet of Things application, with an eye to making it easier to convert conventional factories to 'smart' factories.
Read more: The Connected Factory
The application was introduced at the Minds and Machines event in San Francisco in September. Product Design & Development talked to Howard Heppelmann, divisional VP and general manager of the connected product market segment at PTC, about the new initiative and how IoT can be used in factories.
PTC's IoT systems offer an IoT management dashboard with consumer-like drag-and-drop capabilities.
"The opportunity in the factory is really around connecting operational data with business systems – IT data, operations data, meaning data systems, historians, and operations technology that is in place today driving the factory, with collaborative data from people in the factory and information streaming off of devices, equipment, sensors, and other devices in the factory," said Heppelmann. "Then, it's making that information available to users on whatever device they care about with alerts and notifications, which allow them to turn all this streaming data into real-time, actionable intelligence. That's the breakthrough for Internet of Things, that this isn't about reading a report about what happened yesterday, it's hearing about what's happening right now so people can react to that and adjust and make improvements."
Responding to a problem immediately enables factory managers to increase equipment effectiveness.
GE and PTC came together because of a long-standing overlap in their customer base. The two companies found that their products were often being purchased at the same time. "There was a natural understanding of the parties that was sort of catalyzed by some mutual customers and then just conversations between the two parties," said Heppelmann.
PTC's platform for IoT has always been meant to operate in the manufacturing space, Heppelmann said, with the founders working on software applications for manufacturing intelligence before developing ThingWorx.
"So it was a combination of our relationship, joint customers and a recognition of the history of how ThingWorx was developed," said Heppelmann.
The user interface application enablement available with ThingWorks can be added to GE's existing portfolio of factory automation solutions. "It is, I think, what both parties recognize as a match made in heaven in terms of allowing the infrastructure and the application tiers to come together into real-time information that can allow people to make real time decisions."
One of the most useful things that PTC's ThingWorx brings to a factory is the ability to match up and compare data sources. These can be displayed in an easy-to-use dashboard, and users can receive alerts or notifications for the data they need. This data can then be displayed on whatever web device or mobile device they use day-to-day.
The partnership with PTC will accelerate the use of GE's Brilliant Factory initiative, which is already in use at a number of GE factories. In the future it will be deployed to all GE factories worldwide.
"The Brilliant Factory integrates engineering and manufacturing design, leverages data to run our factories much more productively, and optimizes the entire supply chain," said Jamie Miller, GE CIO. "This solution gives us the ability to see that data clearly and easily in a format that makes critical decisions possible, so we can increase machine uptime and predict maintenance before it is needed."
One of the biggest challenges when it comes to making ThingWorx useful is working in older factories, Heppelmann said.
"Sometimes critical equipment in a factory can be 60 years old and it wasn't designed for connectivity, so customers have to look at their options and alternatives for adding that connectivity," he said. "This is an area [in which] GE provides a lot of hardware and infrastructure capabilities to enable that. But I think the primary challenge when we are looking to take an as-is factory and turn it into a Brilliant Factory is making sure the customers are connecting the right kind of assets either by retrofitting them or through new equipment."
Automating equipment in a smart factory can make for less downtime and fewer quality issues. Ideally, alerts and always-alert sensors can let people know when there is a problem with a machine before the problem occurs.
"IoT really provides visibility, from looking through the rear view mirror at what happened at your factory to real time actionable data that can allow for course corrections instantaneously. It is going to drive a tremendous amount of value in factories."
"The relationship brings two companies that have tremendous thought leadership in this space together," said Heppelmann. "Both have incredible assets in terms of their customers and this lets GE bring their tech and capabilities to customers and us to bring ThingWorx and other PTC technologies to customers. So less in technology and more in a go-to-market perspective, I think both parties see an incredible opportunity in leveraging each other to accelerate our progress and our customers' progress."
---
Filed Under: Industrial automation
---