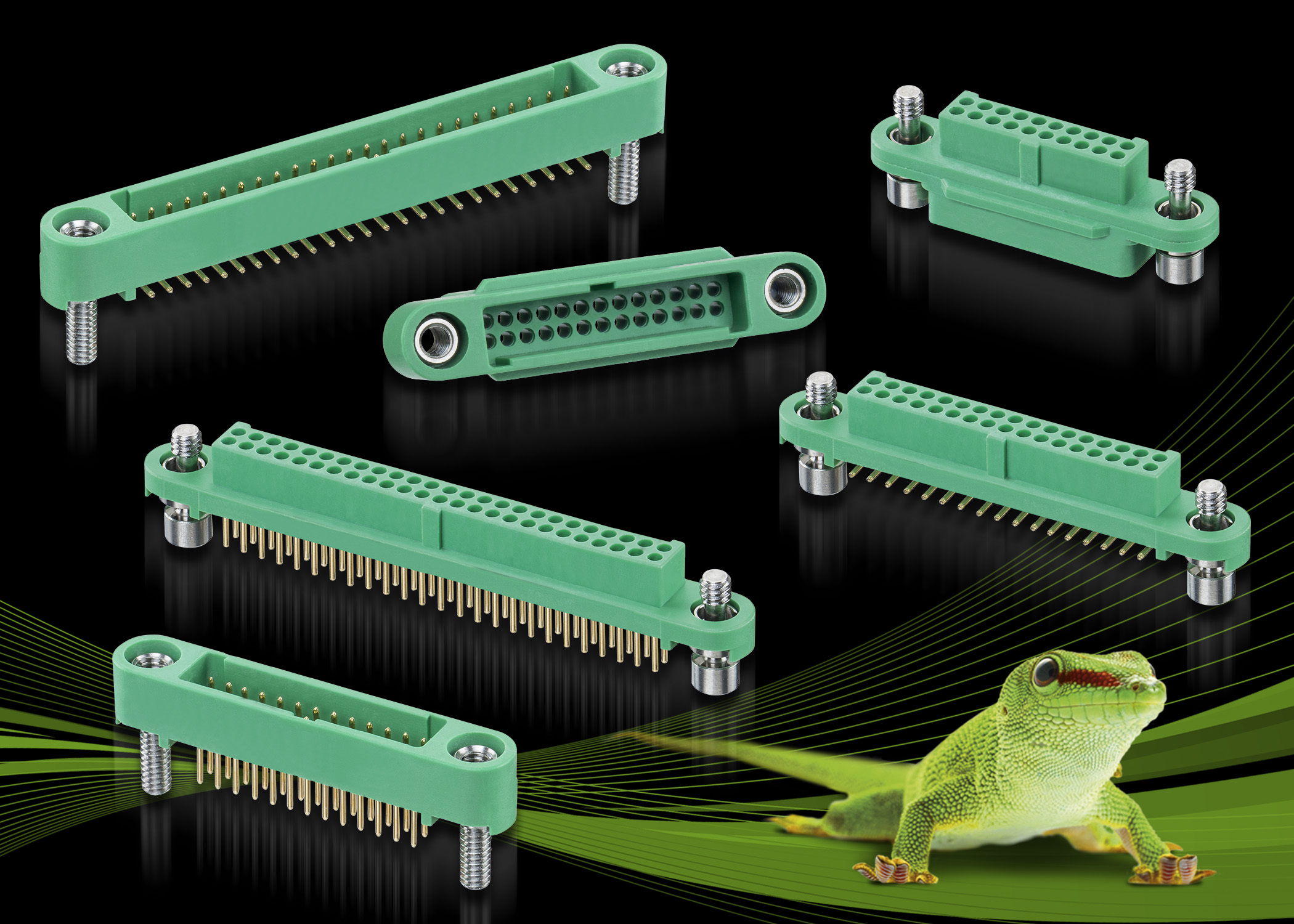 Following strong customer uptake of its initial release of the high-reliability Gecko Screw-Lok 1.25mm pitch connector, Harwin has now doubled the range, with four new pin count sizes complementing the existing product options. The company, who specializes in manufacturing interconnect solutions capable of meeting the most challenging of application demands, has announced the addition of 20, 26, 34 and 50-contact connectors. These sizes are available in all the existing connector designs including vertical PCB throughboard and SMT in both male and female, horizontal PCB throughboard in male, cable housings in both male and female, and metal (aluminium) backshells for both male and female cable housings.
The total number of new options added to the range is 36. This broadens the options available to customers dramatically, thereby enabling their specific application requirements to be fully addressed without compromises being made. As with the existing Gecko Screw-Lok products, the new additions feature ruggedized 'mate before lock' stainless steel screw fixings for increased security with inbuilt corrosion resistance against salt spray and humidity. Pivotal to the success of the Gecko product family are Harwin's patented single piece 4-finger beryllium copper female contacts. These can withstand up to 1,000 repeated mating cycles without any loss of performance. The connector design is also optimized to withstand high vibration, shock and extremes of temperature, thereby ensuring optimum electrical performance and durability when placed under the harshest of operational conditions, even in these larger size envelopes.
The Gecko-SL family continues to provide the industry with a package that is up to 45 percent smaller than conventional Micro-D connectors and up to 75 percent lighter. It delivers the combination of robustness, compact footprint and increased flexibility that engineers need for modern space constrained, high reliability designs. Throughout the range, contacts are rated to 2.8A individually and 2.0A for all contacts simultaneously. Gecko-SL can cope with operating temperatures spanning from -65°C to +150°C, as well as enduring 20g vibration and Z axis 100g 6m/s shock, with no discontinuity greater than 1µs. The range is manufactured using environmentally-friendly materials, with all products being lead, phosphate and halogen free.
---
Filed Under: Connectors (electrical) • crimp technologies, Rapid prototyping
---