A recent study shows the amount of RF energy emitted while a cell phone is held close to the ear to talk, organized by model and brand. The information was compiled by the German Federal Office for Radiation Protection (Bundesamt für Strahlenschutz), which tests devices for a nationwide certification for environmental safety called Blue Angel.
The brand of phones they tested that emit the most radiation can put out 1.68 watts per kilogram, as was the case with the 5T from Chinese manufacturer OnePlus. The Federal Communications Commission (FCC) in the United States sets the standard for phones at 1.6 W/kg. (For comparison, the Blue Angel standard in Germany requires that phones have a specific absorption rate of no more than 0.60 W/kg.)
Apple was the American brand highest on the list, with the iPhone 7 tested at 1.38 W/kg. The newest model, the iPhone X, has lower numbers (1.09 W/kg when held by the ear for model number A1865) according to the manufacturer, as does the current-generation Samsung Galaxy S8 (0.75 W/kg when held at the ear).
Statista used the German findings to create a list of the 15 phones which emit the most radiofrequency energy.
Some 2018 studies from the National Institutes of Health showed that exposure to cell phones may be linked to cancer in male lab rats, but the research is not regarded as consistently conclusive. The FCC notes that RF can heat biological tissue at very high levels, but says that "At relatively low levels of exposure to RF radiation, i.e., levels lower than those that would produce significant heating, the evidence for production of harmful biological effects is ambiguous and unproven." The study in rats bombarded its test subjects with relatively high levels of phone radiation for nine hours per day.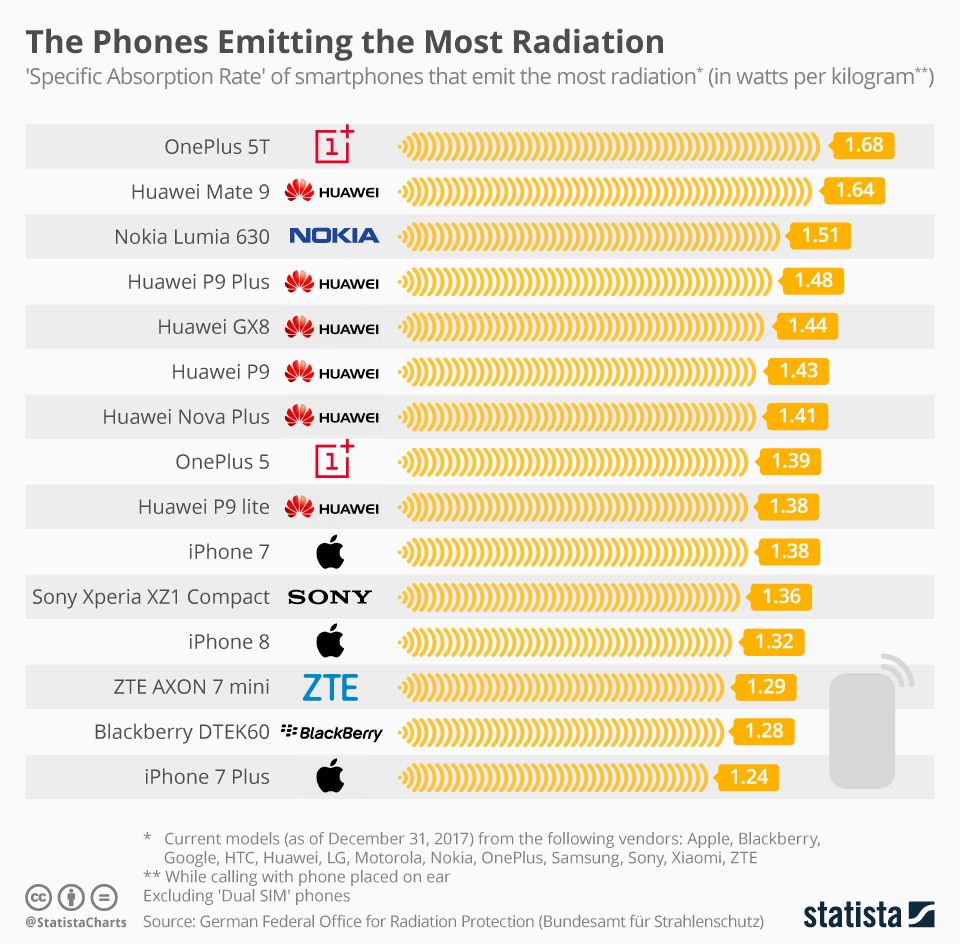 ---
Filed Under: Industry regulations
---