It's not surprising for even the top class product manufacturer to expect last moment changes in the design, which affects the entire product development cycle, increases costs and extends the product launching date unnecessarily. Everyone in the manufacturing sector knows about this issue, but there are only few who do something about it.
Research from Aberdeen Group titled "Engineering Change Management: Avoiding Bottlenecks for Competitive Advantage", showed that the best-in-class manufacturers employ right technologies and processes when it comes to meeting changes in the design when it inevitably arises.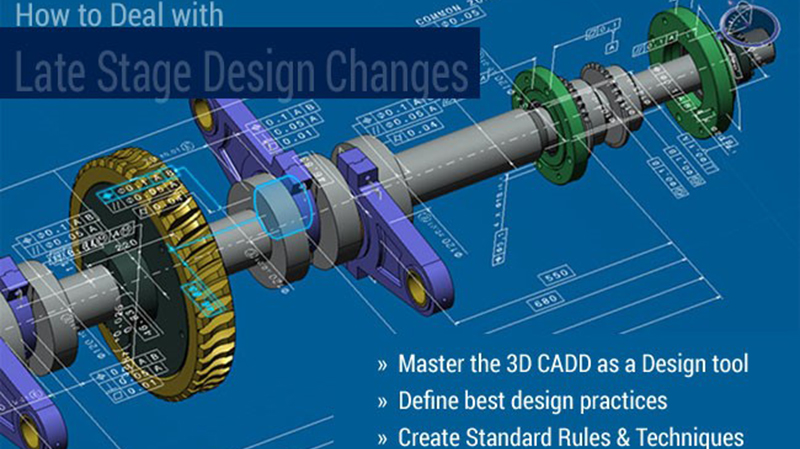 For others, PTC conducted a survey recently in the month of September with 182 respondents from manufacturing organizations located in 17 countries. Nearly half of the respondents (48%) said that it's not easy to modify geometry in their CAD systems and the same number of them also stated that it isn't easy for them to use 3D models from other CAD systems.
These problems have led 56% of manufacturers to excessive work, 40% missed deadlines, 34% increased project costs and 27% of them had to face delays in getting their product to the market.
It is thus clear from the survey, that major reason behind the manufacturer's inability to meet last moment design changes, is mainly due to dealing with different CAD file formats.
In an era of global product development, it is inevitable for the design to be carried out using multiple CAD tools, resulting in different file formats which are required to be translated into native format.
Multi-CAD environment is indeed the reality of a modern design process, and if you are not one of those who make the most of their technology tools, you are not effectively dealing with last-stage design changes.
This implies that you may be spending more hours, adding to the project time and spending more money whenever unexpected changes crops up.
Getting More from the Software You Use
Just like we mostly use only 10% of features on our mobile phones, the same is the case for CAD tools as well. Utilizing the most of your existing CAD system makes it much easier to prepare for any last moment design changes, due to mastery of tools. This is how Fujitsu Peripherals boosted their design efficiency by 40% through maximum utilization of their existing software technology.
To make the most of your existing CAD tools, it is required first to undertake an initial assessment to quantify the knowledge of the design team in using the existing CAD technology. This process will provide a better picture on where the design team stands in terms of utilizing the full potential of the CAD system, which can then be leveraged through proper training.
Most importantly, it is required to set goals for the designing team to accomplish the productivity objective. Primary motives shall include:
Mastering the 3D CAD as a design tool
Defining best design practices
Creating standard rules and techniques for 3D modeling
With these approaches, last moment design changes can be swiftly accommodated without slipping deadlines. Moreover, integrating extensions for software, such as PTC Creo's Flexible Modeling Extension (FMX), further helps in making late design changes conveniently.
With this extension, direct modeling is introduced in parametric environment, allowing designers to interact directly with the geometry of the model.
It also solves the problem of incompatible file formats; suppliers simply need to provide model in neutral file formats such as STEP or IGES and the geometry can be easily manipulated.
PTC also offers Unite Technology as their effort towards addressing the challenges of Multi-CAD environment. With this technology, users can convert data from common CAD systems to PTC Creo data with the requirement of original authoring CAD system.
Apart from PTC, other software providers too have their own extensions to allow manufacturers to easily integrate design data from different CAD systems to ensure on-time product delivery. It is the task of the design team to understand full potential of the CAD system they are using, in order to respond to any last moment design change with least possible turnaround time.
---
Filed Under: Rapid prototyping
---