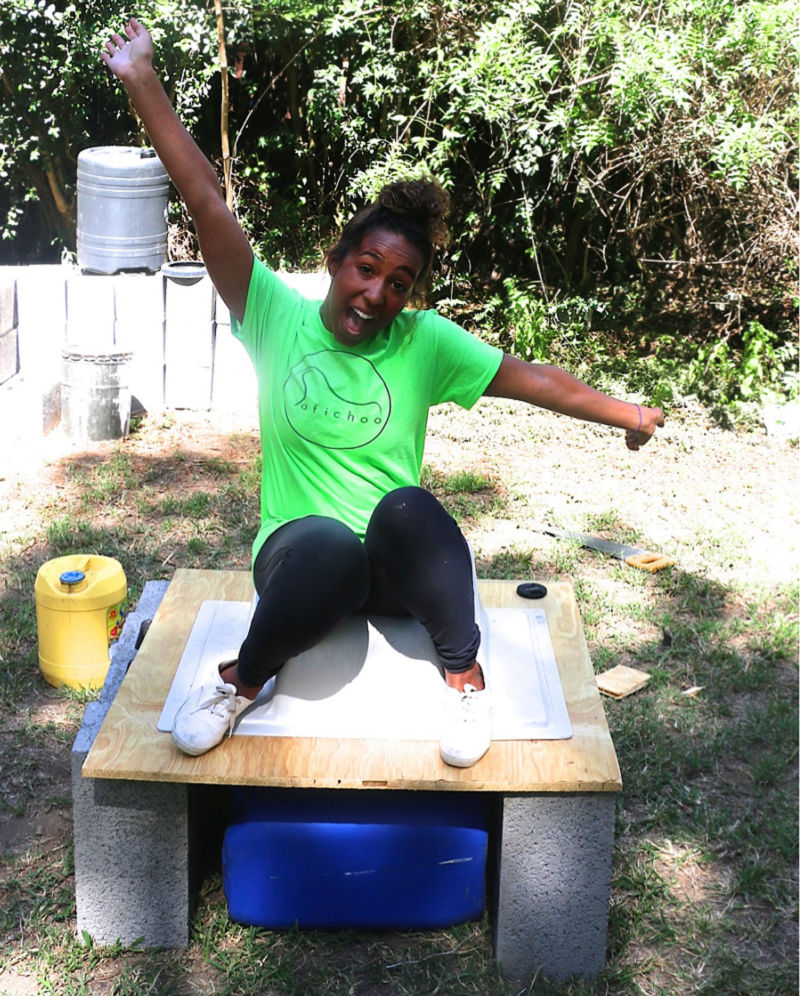 Jasmine Burton, a student at Georgia Institute of Technology, has an idea that could improve sanitation for refugees and other underserved populations. She and her team invented the SafiChoo sanitary toilet and launched Wish for WASH, a line of sanitation relief products, with the help of Sanivation, the Georgia Center for Innovation for Manufacturing and local manufacturers.
Wish for WASH focuses on culturally-specific WASH (Water, Sanitation, Hygiene) products, the first of which is a sanitary toilet that allows for a variety of postures and behaviors.
Burton became interested in the project in 2011, when she attended a women's leadership conference as a freshmen at Georgia Tech. Her mentor, Susan Davis of Improve International, told her that nearly half of all people in the world don't have access to a toilet, with women and girls facing disproportionate access.
"Specifically, I learned that pubescent girls in the developing world frequently drop out of school as a result of their schools lacking toilets," Burton said. "As a product designer and woman in higher education, this reality angered me so much so that I left the conference and called my mom to say, 'I know what I am supposed to do. I am supposed to design toilets.'"
She said that she was interested in designing something that wouldn't be "thrown away when a new style becomes trendy."
Wish for WASH's first project, the patent-pending SafiChoo toilet, was developed for the Kakuma refugee camp as part of an interdisciplinary senior design capstone at Georgia Tech. It is designed to make water easy to collect and separates water from waste; allows for operation from either sitting or squatting positions, and includes a low-water-usage device for genital washing, a religious and cultural ritual practiced among some 70 percent of refugees. Most sanitation innovations in refugee camps have focused on waste treatment in the past, so the water saving capabilities of the SafiChoo toilet gained the attention of organizations like the UNHCR (United Nations High Commissioner for Refugees) Zambia.
Burton said, "We believe that the novelty of the toilet is not the form necessarily (although we are working to make it just as comfortable for squatters and sitters) but more in how it offers a series of options within one unit that benefits both the end user and the waste management system as well as having the capacity to be kitted within itself for [efficient] distribution and shipping strategies."
A pilot test was conducted in the Kakuma refugee camp in Kenya in the summer of 2014, with support from the Center for Disease Control (CDC) and the Norwegian Refugee Council (NRC).
That was where the Georgia Center for Innovation for Manufacturing came in. Center Director John Zegers got in touch with Burton after her team won the Georgia Tech InVenture Prize competition in spring of 2014. The televised competition was just one of their many accomplishments, as they received support and accolades from other industry organizations as well. The Georgia Center for Innovation's Student Startup supports students' projects just like these, those which already have traction in the industry but need a boost from funding or connections to local businesses. Zegers could put Burton in touch with people who could build her product.
"For us, ideas for the form and function of the toilet seem to be plentiful based on our educational background; however, manufacturing has proven to be one of our largest barriers to iterating the product in the field or based on the feedback of the end user," Burton said.
To that end, the Georgia Center for Innovation for Manufacturing provided funding (Zegers did not disclose the exact amount, but said that it was under $8,000) and manufacturing partners. The Center also worked on the CAD models for the project.
Learning more about CAD also helped Burton understand how to translate her ideas into other cultures. She learned parametric modeling in an independent study course after graduation, which taught her that the design should always be based on the needs that the user values, while other, externally fixed values like terrain or building codes remain the same. This allows the designers and engineers to iterate quickly.
"Learning CAD parametric modeling basics as well as having members of our team like Mariel who is extremely proficient in Designing for Manufacturing – especially in 3D modeling software – has enabled Wish for WASH to create a blueprint of our ideas that transcends language and cultural barriers in a way that drawing and speaking can't," Burton said. "Engineers that we have worked with in China and in parts of Africa largely understand CAD renderings and can (contingent on our funds) help us bring our ideas to reality."
Zegers helped figure out what manufacturing process would be the best for a project that had public support, but was at an early enough stage that it still would go through many iterations.
"It's [about] deciding what is the right manufacturing process for those low quantities initially, yet have tooling that can adapt to similar properties so you can make similar parts," he said.
They decided on spin casting, which is similar to rotational molding. They created the tooling so that the process could be replicated, but spin casting was also appropriate to creating small numbers of prototypes. The first prototypes were made at CPI, a Georgia manufacturer.
"It really was [about being] able to get their parts out in a marketplace that they can show, and now they have tooling that they can build as many parts as they want," Zegers said.
Wish for WASH has also had prototypes made in China, thanks to a team member who had business connections there. Those prototypes came out a bit too tall, so as of yesterday, engineers at the Center are working on whittling them down.
The relationship between the state-sponsored Georgia Centers for Innovation and students make projects like this possible. While the Center for Innovation for Manufacturing is located on the Georgia Tech campus, it could help out or use resources from other Centers and educational institutions across the state.
Wash for WASH is moving forward steadily. In November, they started raising money on Indiegogo in order to beta test the toilet in communities in Zambia that lack basic sanitation.
"In the spirit of Thanksgiving, give thanks for your toilet and help others have access to one too by donating," Burton said.
---
Filed Under: Industrial automation
---