IBM was awarded 7,355 patents in 2015, making it the company which was awarded the most patents in the United States for the 23rd year in a row.
Those patents covered a range of ideas, but more than 2,000 of them were for cognitive computing and cloud solutions.
"During IBM's 23 years atop the patent list, the company's inventors have received more than 88,000 U.S. patents. IBM's investments in R&D continue to shape the future of computing through cognitive computing and the cloud platform that will help our clients drive transformation across multiple industries," said Ginni Rometty, IBM's chairman, president and CEO.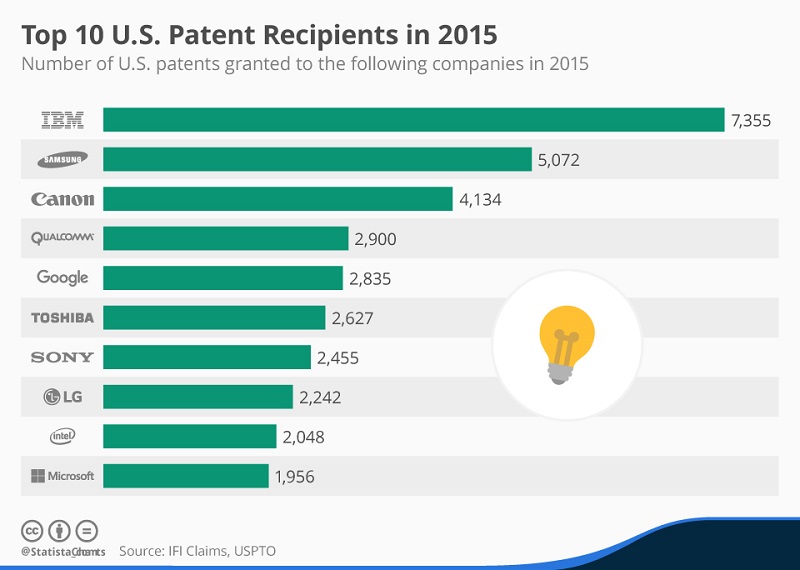 IBM is followed by Samsung with 5,072 patents and Canon with 4,134. Google, Microsoft, and Intel also take expected places on the list, while Apple was just barely edged out of the top ten, coming in at 11 with 1,938 United States patents.
Some of IBM's patents covered human-machine interaction in novel ways, including one that helps computers figure out whether they are interacting with a human or a machine. This could make it easier for a system to weed out bots from human purchasers on a site that sells tickets, for example. Another patent submitted by IBM Research's China lab helps machines interpret emotionally-heightened words in order to react to people using more natural speech.
In the realm of cloud computing IBM is working on cutting down network latency, and on letting clouds request extra computing capacity from clouds with resources to share.
The numbers were collated by IFI Claims patent services.
---
Filed Under: Industry regulations
---