At the end of 2017, the amount of large data centers classified as hyperscale reached more than 390, according to Synergy Research Group.
Generally, hyperscale operators are characterized by the likes of Amazon, Apple, Google, and Facebook—companies that need to provide computing on a massive scale.
What defines a hyperscale data center varies from source to source. According to the IDC, they're described as "large-scale data centers often architected for a homogeneous scale-out greenfield application portfolio using increasingly disaggregated, high-density, and power-optimized infrastructures. They have a minimum of 5,000 servers and are at least 10,000 sq ft in size but generally much larger."
The United States holds 44 percent of the world's hyperscale sites. China (eight percent), Japan (six percent), and the United Kingdom (six percent), round out the top four. The data was collected by analyzing the footprint of 24 of the world's major cloud and internet service firms.
"It is remarkable that the U.S. still accounts for almost half of all hyperscale data centers, reflecting the U.S. dominance of cloud and internet technologies. Other countries are now featuring more prominently in terms of data center build, but even three years from now we forecast that the U.S. will still account for some 40 percent of the worldwide total," says John Dinsdale, chief analyst and research director at Synergy Research Group.
At this rate, Synergy predicts there will be over 500 hyperscale data centers worldwide by the end of 2019.
To see where these powerhouses reside, check out the infographic below, provided by Statista.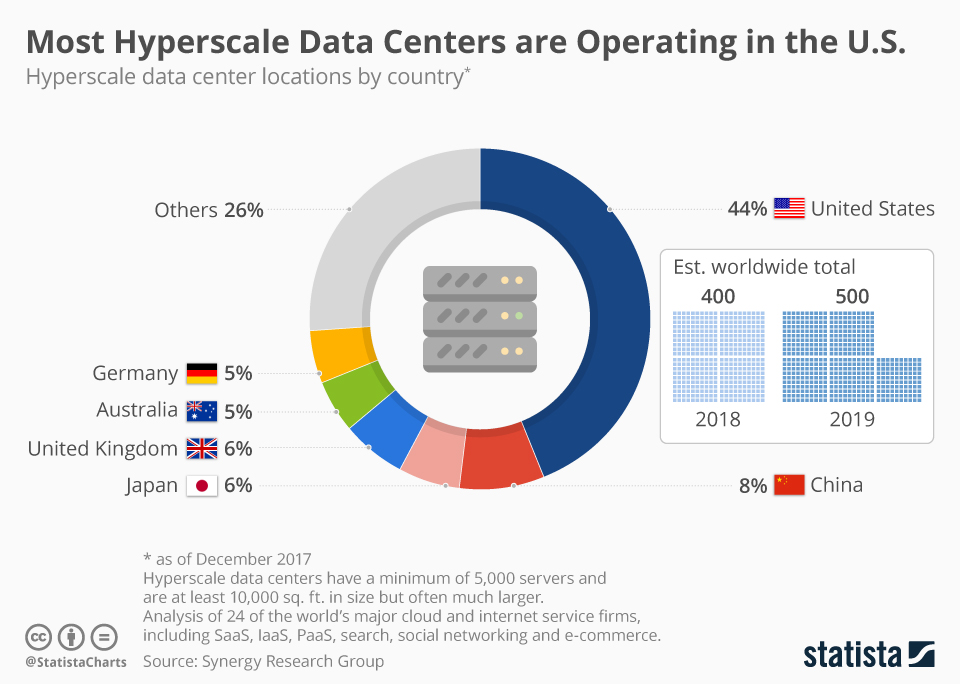 ---
Filed Under: Industrial automation
---