Today, NASA fired the Space Launch System in its last full-scale ground test. The SLS solid rocket booster, designed by Orbital ATK, is intended to launch in 2018 and enable the flight of Orbital ATK's Orion capsule. Eventually, NASA hopes it will enable travel into deep space beyond the moon. Today's two-minute test is the final qualification test before the rocket is stacked upright for the launch pad. After the test, it will be transported from Orbital ATK Propulsion Systems' test facility in Promontory, Utah to Kennedy Space Center in Florida for integration with the other stages, including the Orion capsule and a service module from the European Space Agency.
View more: Photos of the Day: World's Most Powerful Rocket Fires Up for Full-Scale Test
The booster has a 77-ton lift capacity in its initial configuration, with a planned upgrade bringing it to a 115 ton lift capacity. Today's test, which, at a cold motor conditioning target of 40 degrees Fahrenheit was on the colder end of the possible test firing temperature range, provided information on 82 qualification objectives. The interior of the booster needed to withstand heat of up to 6,000 degrees.
The plan for Orion's first mission includes a three-week uncrewed flight, during which it will orbit the moon and deploy several CubeSats used for scientific observation and experiments.
NASA provided an infographic covering the major points of today's test: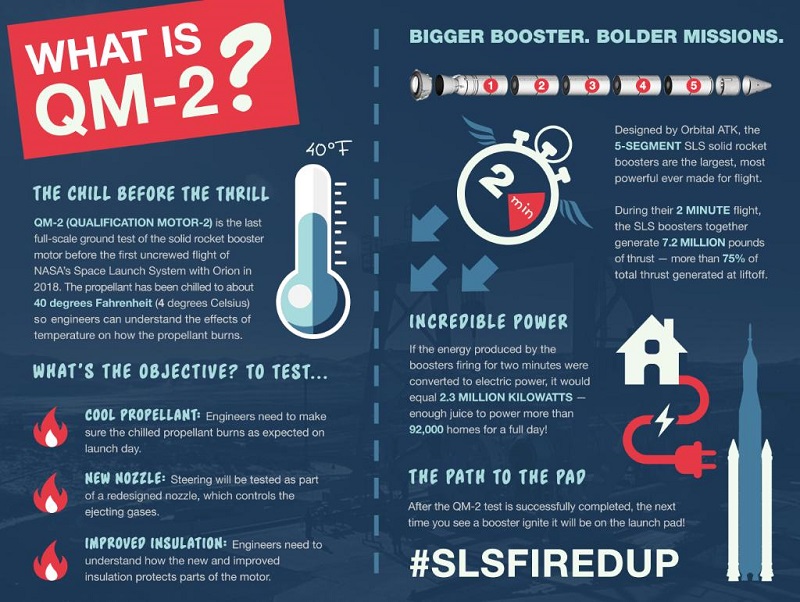 ---
Filed Under: Aerospace + defense
---