Ingenu, formerly On-Ramp Wireless, wants to create a new network for M2M connections that is faster and more reliable for large-scale infrastructure than ever before. With 2G falling out of favor with cellular networks, companies may be forced to revamp their connectivity systems. Ingenu wants to prevent this by using RPMA (Random Phase Multiple Access) to create a system that could remain the same for 15 or 20 years, saving valuable time and money that would otherwise be needed to upgrade communication systems.
PD&D spoke to Ted Myers, co-founder and chief technology officer, and Chief Marketing Officer Landon Garner on Nov. 11 about Ingenu's new plans.
Ingenu was founded in 2008, by workers with experience at Qualcomm, RacoWireless, and other large companies. The change in name from On-Ramp Wireless to Ingenu indicates the intelligent simplicity the team wants from the project going forward, Garner said: they are using unlicensed spectra to ensure universal coverage across the world. At the moment, they are deploying in 31 major cities in the United States, starting in Phoenix and Dallas/Fort Worth. The first swath of towers will cover about 100,000 square miles, with the eventual goal of covering the entire country.
One access point on the RPMA M2M network can cover up to 300 square miles, compared to 20 cell towers required for the same area. Since they aren't impacted by spectrum costs, it costs the company less than $30,000 to put up a tower. Antenna gain is high, due to RPMA's optimized receiver sensitivity. Running on the 2.4 GHz band of spectrum, with 80MHz of bandwidth, allows RPMA greater transmission power.
RPMA is also advantageous because access points and endpoints are carefully synchronized. The endpoints send a signal with a random delay small enough not to exceed the frame size. If a Cyclic Redundancy Check at that particular offset indicates failure, the system tries the transmission at a different offset, brute-forcing its way through all spreading factors at all possible delay times. The endpoints can constantly be made aware of channel conditions and calculate the optimal spreading factor for the transmission accordingly.
Depending on the density of devices in the region, these long-range RPMA towers could be ideal for remote field work or urban planning efforts.
"People want to put these out in the field, and deploy them and forget about them for 20 years," Garner said.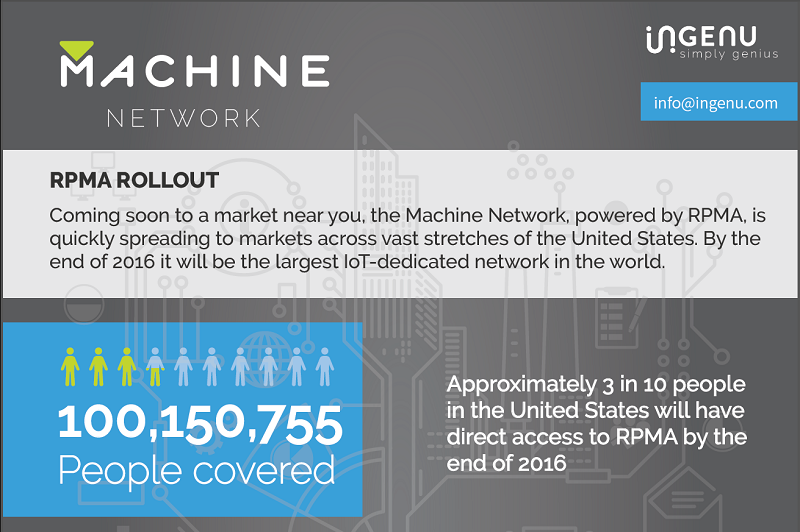 Cellular technology just isn't built for that, he said. Paying for monthly plans "for a meter in the middle of the desert," Garner said, means that companies pay more money for fewer service disruptions as the technology updates.
The Ingenu technology at those endpoints will not change, Myers said, meaning that any connected devices will not be orphaned or stranded.
"We felt that from a technology perspective, there weren't technologies that were purpose-built for the millions and millions of machines that need that low cost for reliable connectivity," said Myers.
This is where they see growth coming in the technology industries, Garner said, not in "sexy things" like wearables that garner a lot of attention for IoT. "The meat and potatoes is … the sensors out in the field and at factories and city infrastructure that are really going to drive the industry."
Over the next year Ingenu will be focusing on building their network out, driving more efficiencies on the hardware side and working with other companies to create partnerships within the ecosystem. Their current chip, developed for the creation of their low-cost network in 2008, will be made smaller.
Moving forward, they hope to bring Ingenu into other countries and make it more cost-effective. As IoT becomes more prevalent, Garner said, business will want to make it a more effective business model.
Garner said, "Our missions are modest. We just want to be the standard for M2M or IoT connectivity. We just want to rule the world, that's all."
---
Filed Under: Infrastructure, IoT • IIoT • internet of things • Industry 4.0
---