Megger now offers a series of insulation resistance testers that are capable of safely testing both high- and low-voltage equipment. The MIT515, MIT525, MIT1025 and MIT1525 feature testing techniques that provide valuable diagnostic information to the user. Each of the instruments can easily test high-voltage power cables and buses, large motor/generator windings as well as line and substation transformers for insulation resistance.
Rated at 5 kV and 10 kV, the MIT515, MIT525 and MIT1025 are engineered to ensure the highest precision possible. Both 5 kV units offer 5% accuracy up to 1 TΩ, while the 10 kV unit offers 5% accuracy up to 2 TΩ. The 15 kV model, MIT1525, offers a 5% accuracy with a maximum resistance up to 3 TΩ. All units are rated for use at an altitude of 3,000 meters and still maintain CAT IV 600 V safety rating.
The MIT525, MIT1025 and MIT1525 perform spot tests, step voltage tests, dielectric discharge tests, ramp tests and dielectric absorption tests for QA testing in manufacturing processes, diagnostic testing to isolate faulty components for repair as well as routine preventative/predictive maintenance testing after an installation.
These lightweight, compact insulation testers feature a lithium-ion battery that can test continuously for up to six hours on one single battery charge. The units are designed to charge while operating and continue to take measurements when connected to line power with a fully discharged battery. This ensures an optimal charge that results in minimal charge times.
All of the MIT models are capable of delivering short circuit current with Megger's unique max power regulation technology. This ensures maximum power transfer at 3 mA, no matter what the load is, until the desired test voltage is reached.
Each unit has a noise filter that can reject up to 3 mA on the 5 kV and 10 kV models and 6 mA on the 15 kV model for effective operation on electrically noisy environments.
Megger's MIT515, MIT525, MIT1025 and MIT1525 include date- and time-stamped tests that allow the operator to identify results and know when tests were performed, a voltmeter function ranging from 30 V to 660 V to check for induced voltages and a rotary switch dial that makes selecting test voltage, test mode, memory and other functions easy.
The testers feature high quality, flexible silicon test leads that meet safety regulations of IEC 61010-31:2008 while ensuring measurement accuracy; a large backlit LCD screen that clearly shows analog readings in ambient lighting, as well as enhanced driver technology that provides plug-and-play when connected to the internet. No set-up procedures are needed.
All models include an additional user-defined test voltage that can be set by the operator and a voltage lock to guard against excessive test voltages being applied to sensitive equipment.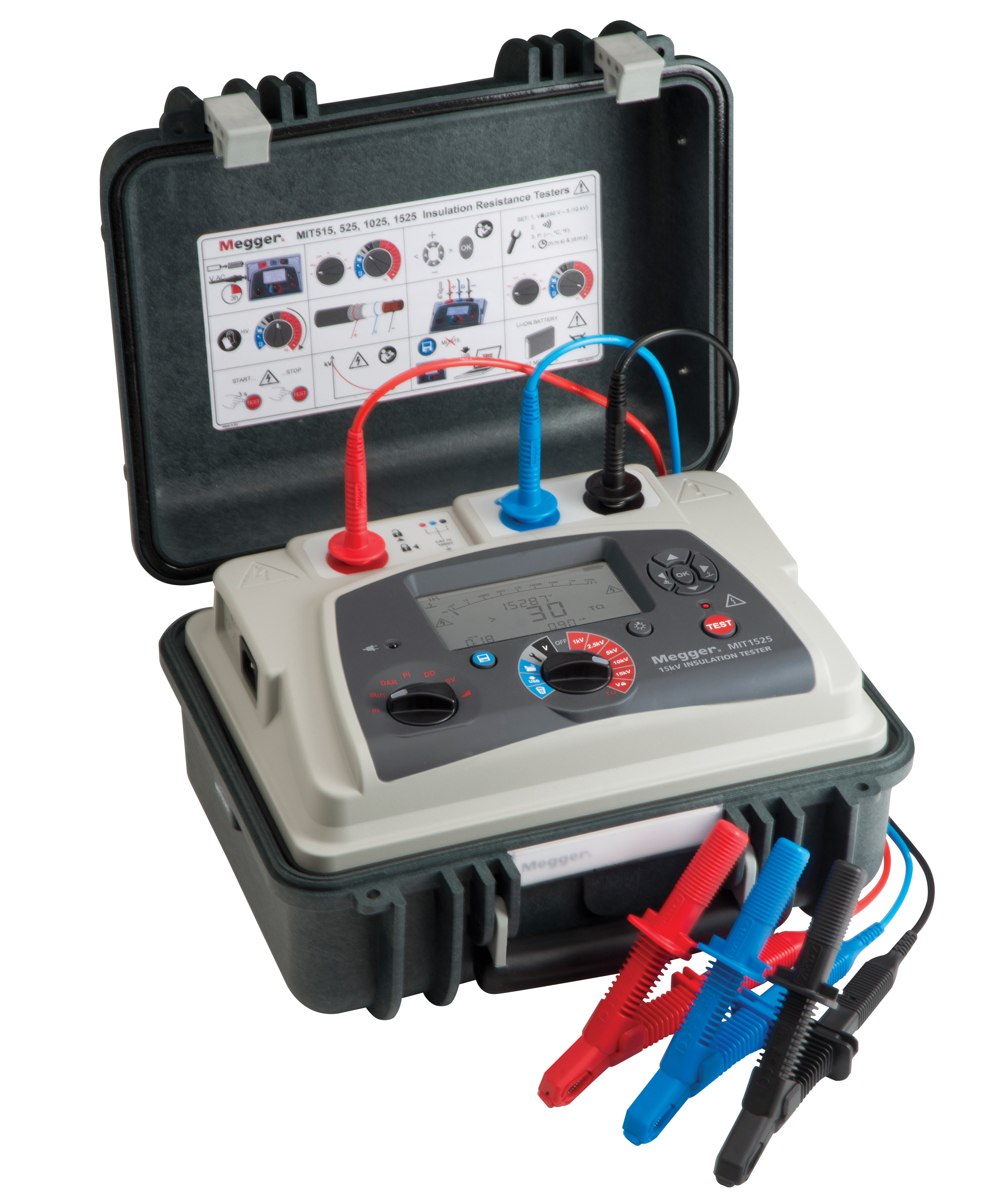 ---
Filed Under: M2M (machine to machine)
---