SANYO DENKI has developed and launched the San Ace 60L 9CRLA type 60 × 60 × 76 mm Long Life Counter Rotating Fan that features the highest static pressure in the industry.* This fan is suitable for cooling high-density equipment such as servers, storage devices, networking equipment, and telecom equipment. It also comes equipped with the PWM control function to externally control the fan speed.
Features
1. High Static Pressure
This fan delivers a maximum airflow of 74.1 CFM and maximum static pressure of 5.62 inchH2O. The maximum static pressure has increased by approximately 40% compared with our current model.**
2. Long Service Life
With an expected life of 100,000 hours (about 11 years) of continuous operation, this fan contributes to longer maintenance-free operating periods for devices.
3. High Energy Efficiency and Low Noise
The PWM control function enables the external control of fan speed, contributing to lowering noise and improving energy efficiency of devices.
* Based on our own research as of March 29, 2018, among equally-sized axial DC fans on the market.
** The San Ace 60L 9CRL type 60 × 60 × 76 mm Long Life Counter Rotating Fan (model no.: 9CRL0612P0G001).
Specifications
Dimensions: 60 × 60 × 76 mm, mass: approx. 310 g
Expected life: 100000 hours of continuous operation (L10 life: 90% survival rate in free air at 60˚C, rated voltage)
Applications
Servers, storage devices, networking equipment, and telecom equipment
Price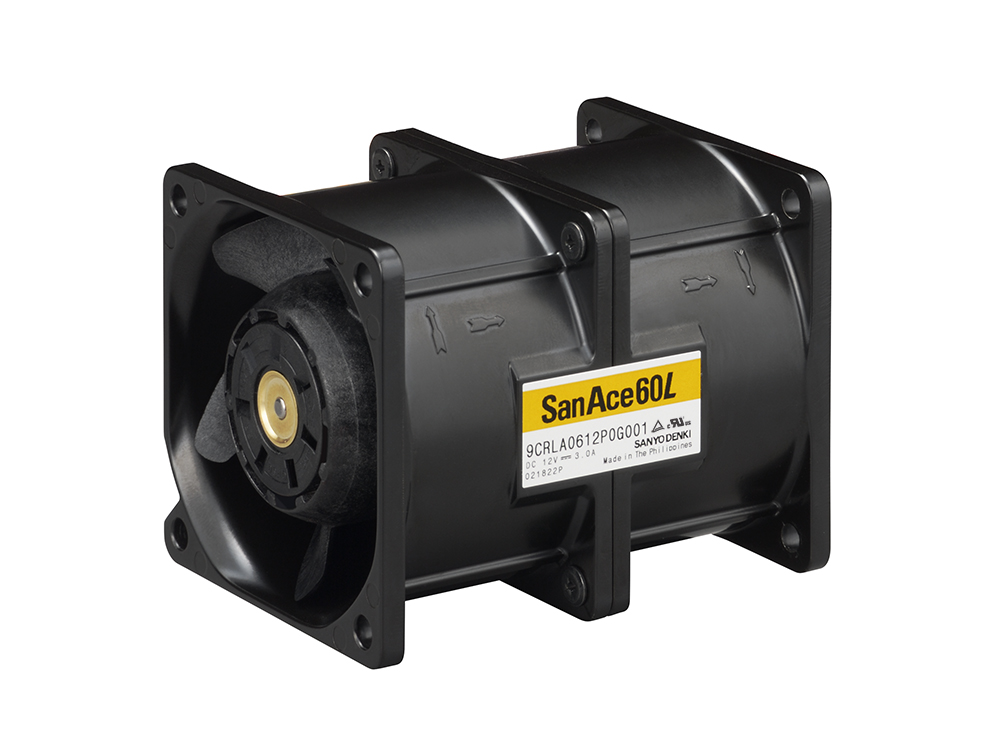 ---
Filed Under: Industrial automation
---