Weidmuller introduces a new addition in the Klippon Connect portfolio of products and services for panel building– maxGUARD. With maxGUARD, the electronic load monitoring ELM devices combined with distribution terminal blocks can be customized to provide selective load protection in 24V DC power distributed systems for industrial automation applications. With combining load monitoring and potential distribution into one complete solution, this offers users time-savings during installation, increased safety against failure, and DIN-rail space savings while being highly service friendly.
The modular maxGUARD system is designed to meet specific requirements for automation control panels. It contains three main cross-connection channels – positive, negative and internal signaling. This design increases the number of possible contacts from the electronic load monitoring device outputs (positive and negative) into the terminal blocks, providing efficient connections for the distribution board loads, as well as reduced wiring. Integrated test points in maxGUARD's terminals and a disconnect lever for load circuit galvanic isolation helps to simplify testing and troubleshooting.
Available in a range of single-channel and four-channel variations (both standard and conformal coating), maxGUARD provides application flexibility for custom solutions.
Features include:
6.1mm housing and push-in connection technology
Rated operating voltage of 24V DC
The complete system has a maximum current capacity of 40A
Wide operating temperature range extends from -25°C to +55°C (without derating)
Terminal cross-sections are 16mm² for the feed-in module, 2.5mm² for the electronic load monitoring (ELM), and 1.5mm² at the top and 2.5mm² at the bottom of the potential distribution terminal block
Modules are cULus listed, Class 2 Certified (1A, 2A and 4A modules), CE rated and carry a wide range of global approvals
Can be pre-configured using the Weidmuller Configurator, a free software download available on the Weidmuller website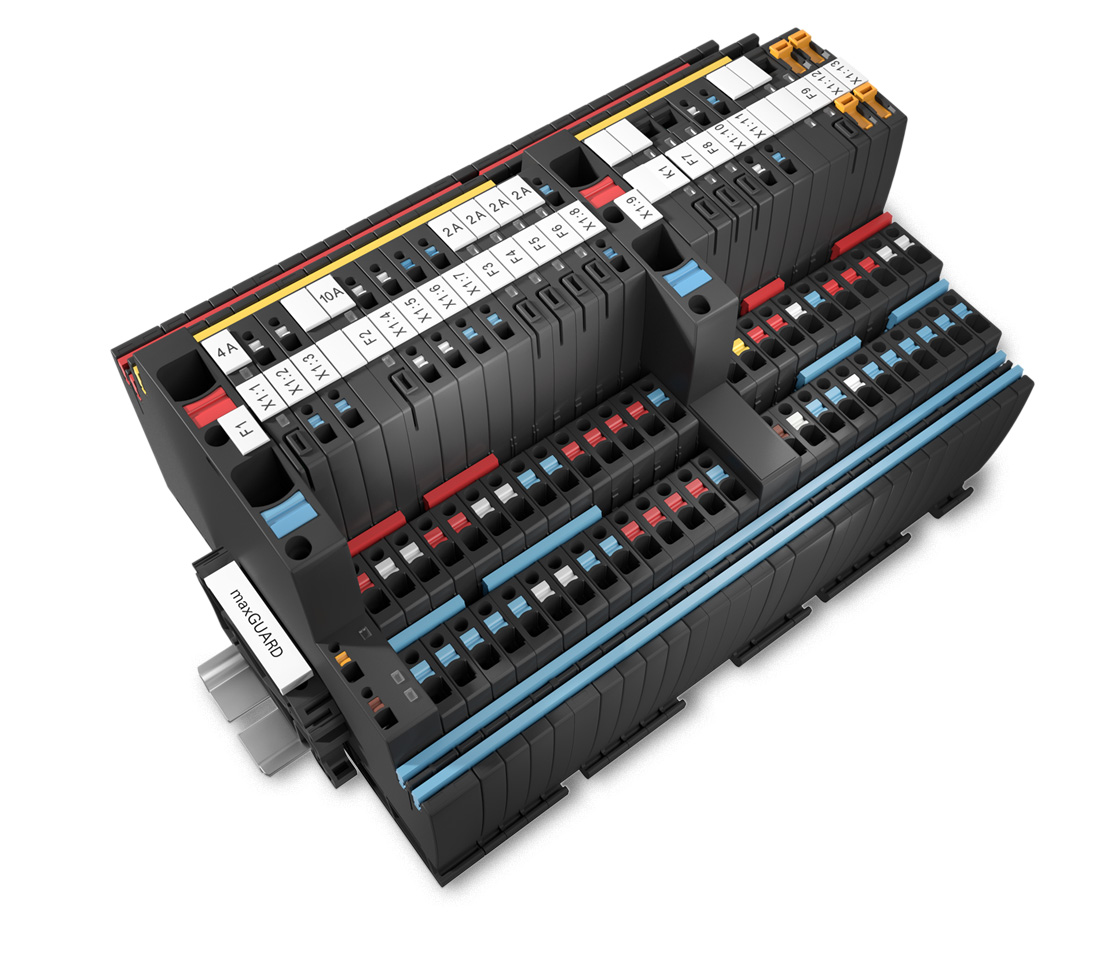 ---
Filed Under: Rapid prototyping, Terminal blocks
---