Renesas Electronics Corporation announced 38 new microcontrollers (MCUs) in its RX130 Group. The new MCUs extend flash memory size to 256 KB, 384 KB and 512 KB, and increase package size up to 100-pins to provide higher performance and compatibility with the RX231/RX230 Group of touch MCUs. The ultra-low power, low-cost RX130 Group adds higher responsiveness and functionality for touch-based home appliances, and building and industrial automation applications requiring 3V or 5V system control and low power consumption. Featuring a new capacitive touch IP with improved sensitivity and robustness, and a comprehensive device evaluation environment, the new 32-bit RX130 MCUs are an ideal fit for devices designed with challenging, non-traditional touch materials, or required to operate in wet or dirty environments, such as a kitchen, bath, or factory floor.
"As technology advancements make touch-based HMI more commonplace in home, building, and industrial devices, manufacturers are working toward new ways to bring innovative and differentiated products to highly competitive markets," said Tim Burgess, Senior Director, Renesas Electronics Corporation. "With the RX130 MCUs, Renesas offers a powerful, responsive and safety-compliant touch solution that allows designers to explore new materials and operating environments for their devices, while providing design scalability with full compatibility for future growth."
Key features of the new RX130 Group of MCUs
New capacitive touch IP for improved responsiveness, noise immunity, and robustness
The RX130 Group of MCUs combines excellent sensitivity and noise tolerance, making it possible to develop touch keys employing a variety of cover materials for use in a broad array of applications. These include control panels for electric appliances used in locations where they are likely to get wet, home equipment employing recessed switches for a more attractive design, and industrial machinery that must be operated wearing gloves for safety reasons.
The expanded RX130 Group of MCUs features a new capacitive touch IP that supports both self-capacity and mutual-capacity for improved robustness and sensitivity. The capacitive touch sensor also significantly improves noise immunity and sensitivity for operation in wet conditions or dirty conditions. This allows manufacturers to apply touch keys to a variety of challenging, non-traditional materials, such as wood, glass, or thick acrylic, opening up capacitive touch to a wider range of use in wet materials, while reducing safety or malfunction risks.
Expanded on-chip memory for design future proofing
Multi-language support, integrated HMI and system control, and enhanced functional safety are among the key trends driving up demand for on-chip memory in the home appliance, and building and industrial automation markets.
Renesas has expanded the on-chip memory range and package lineup for the RX130 Group. Designers can select an MCU with 64 KB flash memory in a 48-pin package, or 128 KB in an 80-pin package, and then move up to 128KB, 256 KB, 384 KB or 512 KB in a 100-pin package. With the wide lineup, designers can support evolving design needs using a single platform or common design as application code sizes and functionality continue to increase.
The RX130 Group of MCUs is compliant with IEC/UL60730 safety standards for consumer electronics, with several built-in functional safety hardware elements.
Easy migration path to higher performance Renesas RX MCUs with touch control
In addition to full compatibility across the RX130 Group, the new MCUs are compatible with the RX231/RX230 Group of MCUs, offering manufacturers a seamless migration path to the higher-performance Renesas MCUs for touch-control and 5V system-control solutions.
Pin compatibility and software compatibility make it possible to reuse existing software resources and providing coverage for a range of low- and high-end devices. Hardware compatibility is supported by Renesas' RX Firmware Integration Technology (FIT) Driver Package, which offers a common API that makes it easy for designers to move up or down seamlessly within the Renesas RX Family, and also reduces the burden of program development and software resource management in software development.
Robust device evaluation environment for improved sensitivity
Renesas also provides a robust evaluation environment for the new RX130 MCUs to support both self- and mutual-capacity functions. This includes:
A Renesas Starter Kit designed for basic function evaluation
A Renesas Touch Solution Kit designed for a detailed capacitive touch feature evaluation
The Workbench6 v1.07.00.00 tool environment with improved noise immunity and tuning ability to improve usability for capacitive touch software development
Development environment toolbox, including Renesas' FIT, emphasizing portability between MCUs within the RX Family
Pricing and Availability
The 38 new RX130 MCUs are available now, with memory capacities ranging from 128 KB to 512 KB and pin-count packages ranging from 48 to 100 pins. Pricing depends on memory capacity, number of pins and packaging. For example, the R5F51308ADFP 100-pin LQFP package with 512 KB memory is priced at US$2.56 in 10,000-unit quantities.
Refer to the separate sheet for main specifications of the new RX130 Group MCUs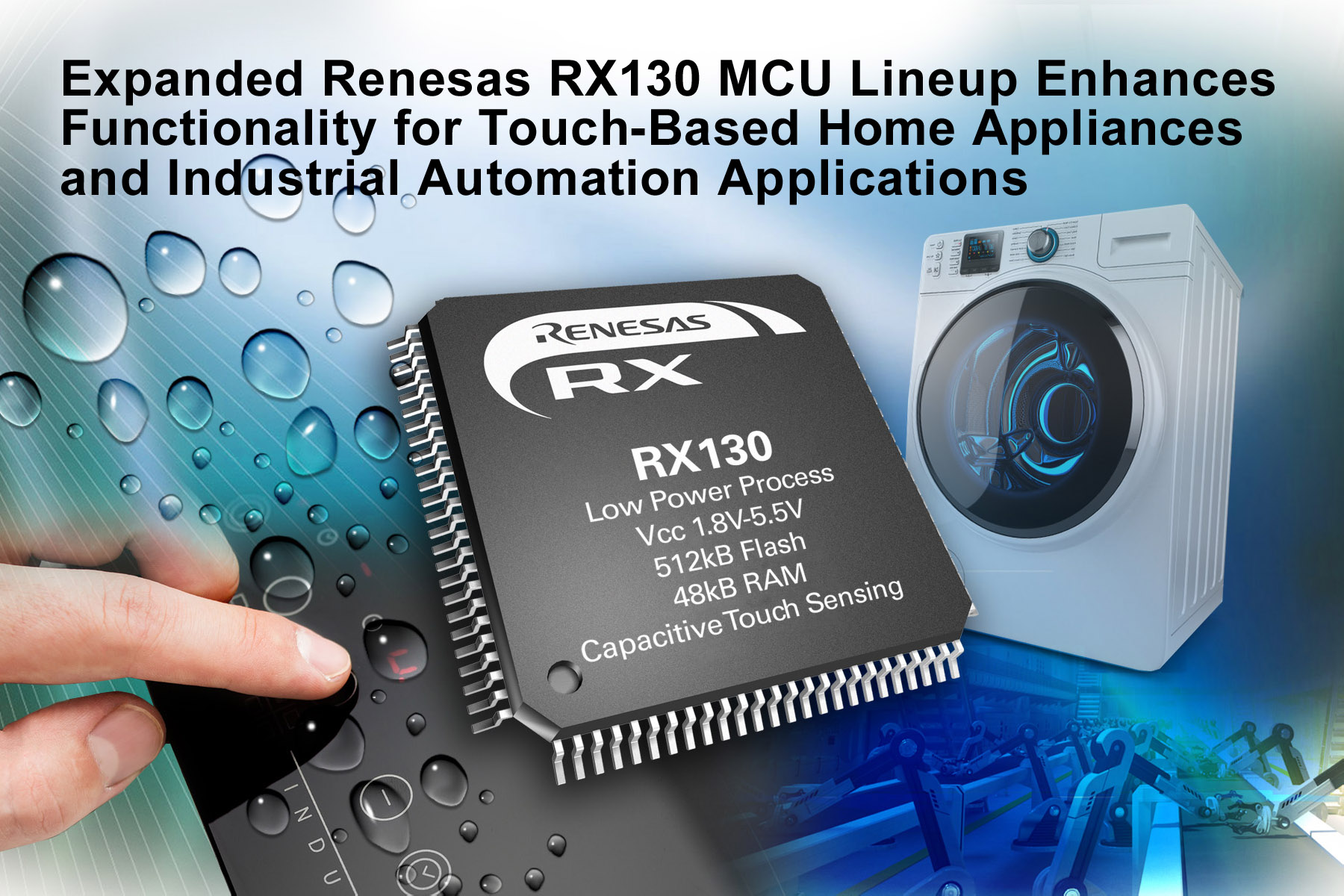 ---
Filed Under: Appliance engineering + home automation, Industrial automation
---