Renesas Electronics Corporation announced the expansion of its popular RX65N/RX651 Group of microcontroller (MCU) lineup that addresses advanced security needs for connected devices operating in industrial automation, building automation, and smart metering systems. The expanded lineup features MCUs with integrated Trusted Secure IP, and enhanced, trusted flash functionality and human-machine interface (HMI) for industrial and network control systems.
"Security, reliability, and connectivity have joined high-performance and quality as top decision-making criteria for industrial control system developers," says Tim Burgess, Senior Director of the High-End MCU Business, Renesas Electronics Corporation. "The expanded RX65N/RX651 MCU lineup provides industrial systems manufacturers the high reliability, power efficiency, and enhanced connectivity required for operation in industrial systems, while adding the enhanced security and connectivity required for edge devices in increasingly connected environments."
The expansion of devices operating at the edge of the Industrial Internet of Things (IIoT) has increased system manufacturers' need for secure network connectivity and reliability, including secure on-the-go firmware updates. The expanded RX65N/RX651 devices support these evolving security and reprogrammability needs, offering integrated Trusted Secure IP, enhanced flash protection, and other technology advancements to create a secure and stable integrated solution far above others in the market, as proven by the Cryptographic Algorithm Validation (CAVP) certification. In turn, these security advancements enable seamless flash firmware updates in the field through secure network communications.
Key Features of The Expanded RX65N/RX651 MCUs
Integrated Trusted Secure IP
The new MCUs expanded with enhanced security features are based on the high-performance RXv2 core and a 40nm process, which provide strong power efficiency for CPU operation at 4.55 Core Mark/MHz. Integrating the Trusted Secure IP into the new MCUs enables system control engineers to realize high root-of-trust levels for device operation through a combination of three new features:
Protect encryption key by Trusted Secure IP
Integration of encryption hardware accelerators including AES, 3DES, SHA, and TRNG as part of Trusted Secure IP
Protect boot code by area of Flash
The Trusted Secure IP received the CAVP certification, which ensures the customer will use a device with a high security level.
Network Connectivity and HMI Features Optimized for The IIoT
Renesas has optimized the new RX65N/RX651 MCUs for connected industrial environments. The new MCUs offer network connectivity and HMI support that makes it possible to:
Monitor the operating state of machinery from both inside and outside the factory
Exchange data for making changes to production instructions
Reprogram the MCU's memory to update equipment settings
Design engineers are often asked to integrate small thin-film-transistor (TFT) displays into their IoT edge devices or system control applications. These displays allow users to monitor machine behavior through a modern low-cost HMI solution. The RX65N/RX651 is an ideal solution for controlling these displays as it features an embedded TFT controller and an integrated 2D graphic accelerator to provide advanced graphics features and high-performance applications. Selecting a WQVGA display size allows the large 640kB of on-chip RAM to be used as display frame buffer, which saves external RAM, ensuring a cost-optimized design.
Seamless In-The-Field Firmware Updates
Compared with other IoT devices, industrial applications are designed for long-term operation, which involves unique and sometimes challenging requirements, such as firmware updates in the field. The new RX65N/RX651 MCUs feature dual bank flash integration supporting both BGO (Back Ground Operation) and the SWAP function, making it easier for system and network control manufacturers to execute in-the-field firmware updates securely and reliably.
Embedded Drivers and Portability Through Firmware Integration Technology (FIT)
FIT is a holistic concept that emphasizes the embedded peripheral function module drivers and portability improvement between the RX65N/RX651 MCUs. The technology aims to lighten the burden of program development and resource management in software development using the entire family of RX MCUs. FIT provides a common application program interface for peripheral drivers and middleware for RX family, based on a solid Board Support Package, which controls the common information for these functions like initial MCU, clock, and board settings. FIT is available for all RX devices and fully integrated into the development environment.
Expanded RX Ecosystem for Increased Design Support
Renesas has expanded its robust RX tool infrastructure to help engineers jump start their development work. The new Envision Kit provides an evaluation environment that allows engineers to easily benchmark MCU performance and start developing their own software. The new RX65N Renesas Starter Kit (RSK) includes a development board with MCU, display, on-chip debugger, trial Renesas C compiler and Integrated Development Environment (IDE), enabling engineers to get their evaluations and development up and running within a matter of minutes.
To jumpstart their display designs, RX users can also leverage several ecosystem partner tools, including easy-to-use graphic user interface (GUI) tools.
Availability
The expanded RX65N/RX651 MCUs, Renesas RX65N Starter Kit, and Envision Kit are available now.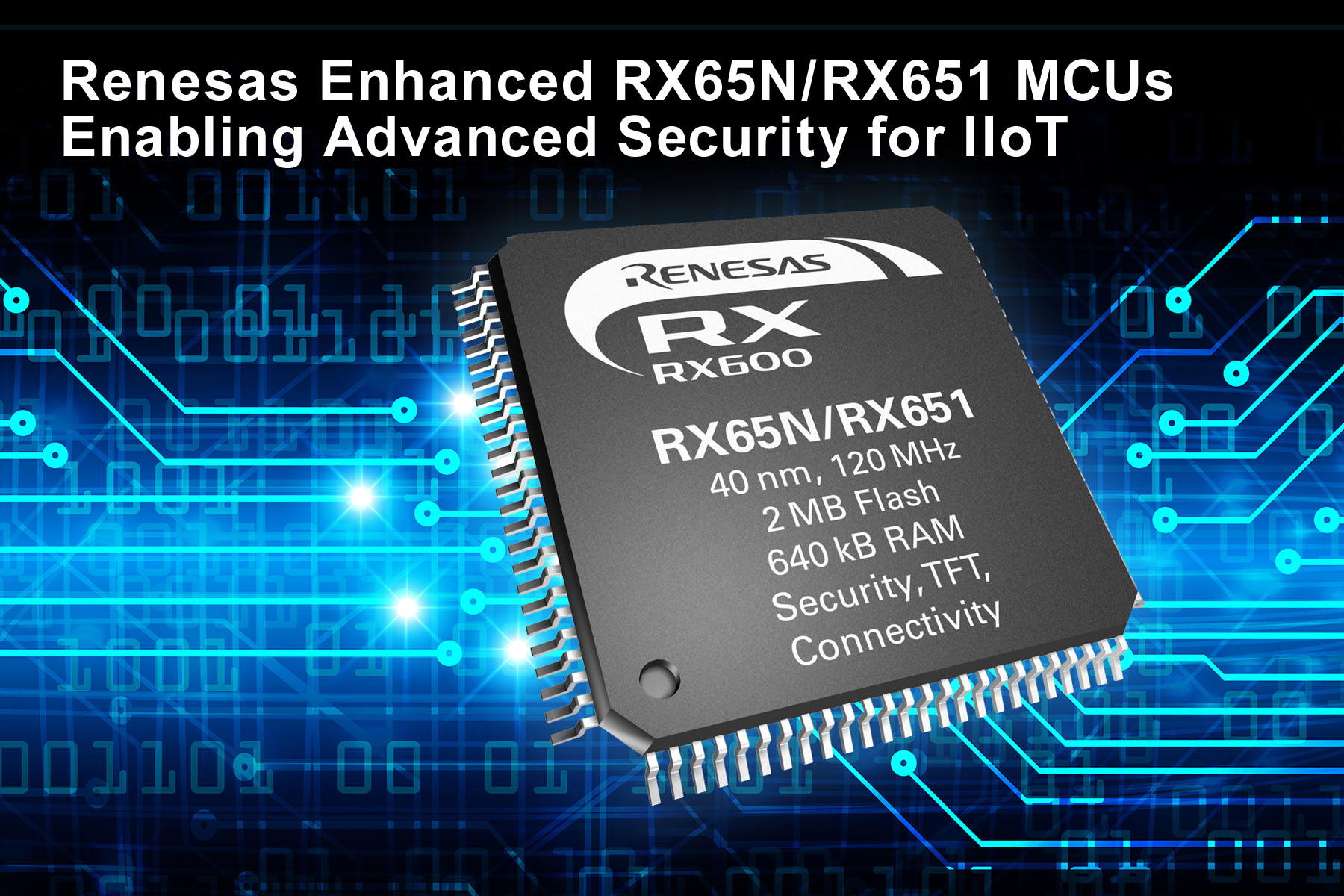 ---
Filed Under: Industrial automation
---