Advantech's IIoT Automation Group is pleased to announce its modular industrial panel PCs.
With the arrival of Industry 4.0 and the resulting shift in market demands, conventional all-in-one automation panels lack the flexibility to meet industry requirements. To address this need, Advantech created a series of modular panel PC solutions based on three performance-segmented models – a control panel, industrial thin-client, and an industrial monitor. The modular design of Advantech's solutions allows the computing modules to be interchangeably combined with various display modules to provide up to 15 flexible platform solutions for specific field applications. These platforms can be rapidly customized and easily configured according to usage requirements. Customers can choose from an industrial thin-client or standard box PC equipped with an Intel® Atom™ or Core™ i processor, analog resistive single-touch or projected capacitive multi-touch displays, as well as over 30 I/O expansion modules in order to assemble the ideal solution based on their exact specifications.
The incredible flexibility, serviceability, and modularity of Advantech's Industrial Panel PCs offer numerous performance and cost-saving advantages, including complete HMI control and monitoring, customization according to application requirements, rapid integration and deployment, reduced system downtime and maintenance costs, and support for future expansion. Moreover, with features such as wide temperature support, an IP66-rated true-flat front panel with built-in Wi-Fi/NFC antenna, anti-scratch surface, and optional NFC reader, Advantech's display panels are ideal for both industrial and commercial applications.
TPC-5000 Series – Control Panel for High-End Control Demands
The TPC-5000 series control panels are equipped with a 6th generation Intel Core i processor, which delivers up to a 20% superior computing performance. The inclusion of three Gigabit LANs facilitates IT and OT bridging as well as multi-protocol communication and communication redundancy. A built-n TPM 2.0 module provides hardware-based security to ensure data integrity and secure transfers across diverse platforms.
TPC-2000 Series – Industrial Thin-Client for Process Management and Execution Systems
Advantech's thin-client box module features a low-power consumption Intel Atom processor that satisfied green requirements and can support a secondary display for increased monitoring flexibility. With its compact and slim dimensions and HTML5 compatibility, this thin-client box provides a space saving, economical platform that facilitates the centralized management of multiple devices and enables rapid interface development.
FPM-7000 Series – Industrial Monitor for Data Acquisition and Communication
The FPM-7000 series of industrial monitors are a visualization interface designed to enable efficient human-machine interaction. The modular design allows the video I/O to be flexibly configured and the base monitor module to be interchangeably combined with display panel modules of varying size, ensuring suitability for diverse applications. Additionally, the FPM-7000 series are equipped with Advantech's iLINK technology, which supports long-distance data transmissions to either a single client device or multiple client devices. Furthermore, the wiring has been simplified so only a single LAN CAT6 cable is required for both connectivity and control operations.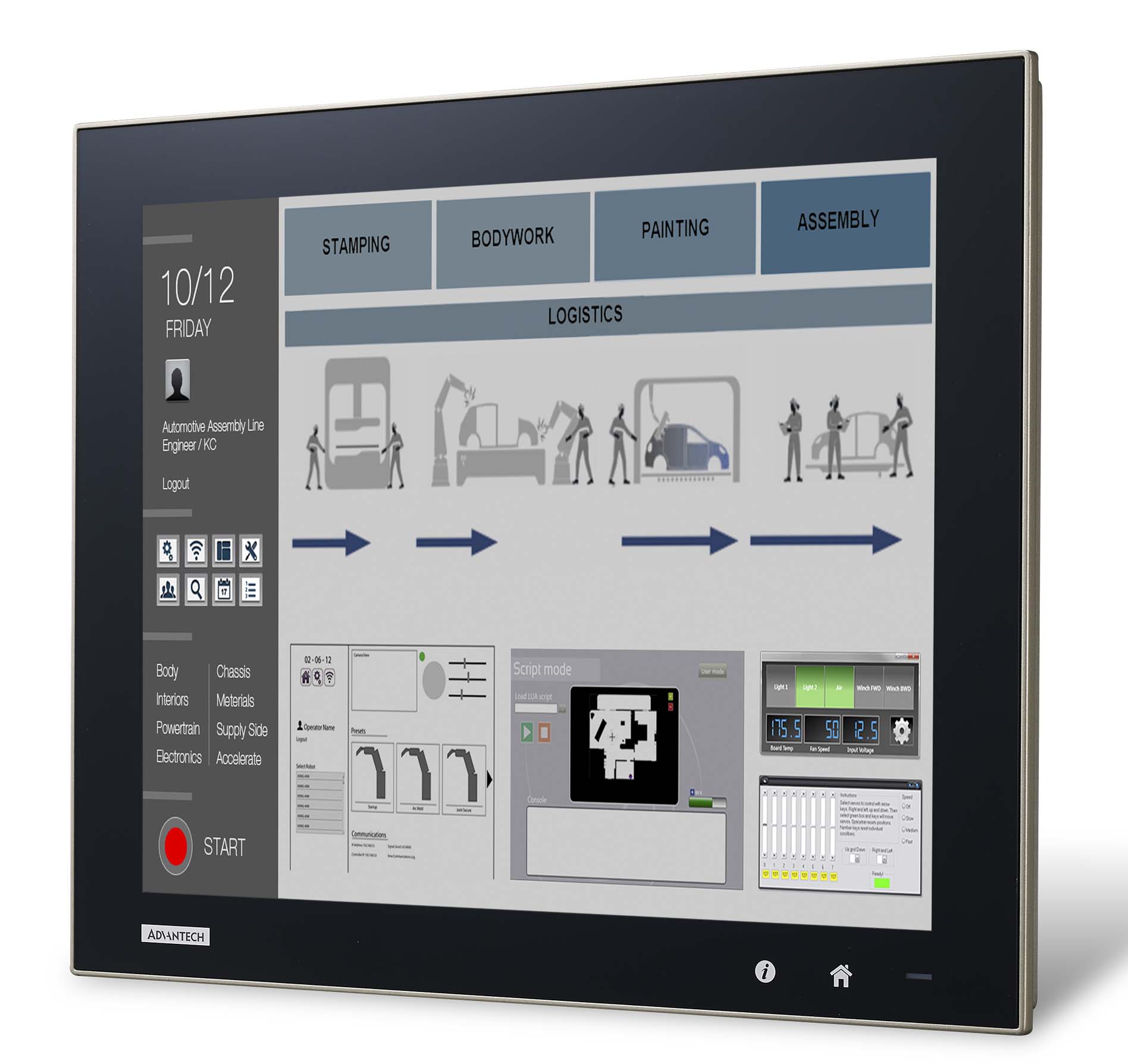 ---
Filed Under: Industrial automation
---