When it comes to training soldiers and Marines to operate ground vehicles, Moog's technology ensures a driver simulator feels every bit as true and tactile as the real thing. Moog is supplying and supporting the high-performance electric motion systems that underpin FAAC Incorporated's latest-generation driver simulators. These simulators include the MATV and MRAP Cougar vehicles. At I/ITSEC 2011 in Orlando, Fla. (Nov.28 – Dec 1), FAAC will be showcasing an Operator Driving Simulator on a Moog 6-DOF motion platform. In its booth, Moog will display the technology behind the motion systems that make the realism and high performance possible.
FAAC simulators use a Moog six-degree-of-freedom (6DOF) light-payload (MB-E-6DOF/12/1000KG) electric motion base and a Moog 3DOF seat motion base (MB-E-3DOF/3/227KG). The Moog 6DOF motion base is a six-legged hexapod design on top of which rests a simulator's driver cabin. The 6DOF motion base features six brushless servomotor-sealed actuators with technology that helps provide the feel of maneuvering across roads and hills. The 3DOF seat motion base has similar technology and a smaller footprint than the 6DOF.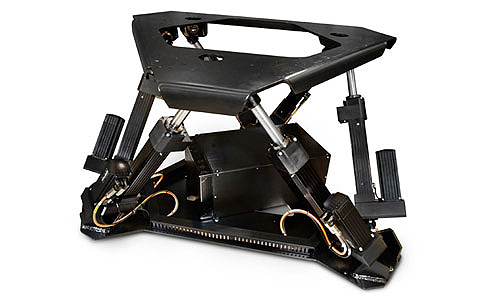 Moog's Electric Motion Base 6DOF light-payload (MB-E-6DOF/12/1000KG/1500 KG) features six brushless servo motor sealed actuators with new technology that provides longer life, reduced vibration and less acoustic noise.

Moog designed the 3DOF seat motion base in conjunction with FAAC to provide the feel of combat operations for a single occupant. FAAC has used two of these bases in a single trainer to simulate the driving experiences for the driver and passenger. In addition to greater realism, Moog's technology also offers longer life, reduced vibration and less acoustic noise.
Longer life and smoother operation for a motion system is critical, as training simulators are typically operating around the clock in facilities used for driver and crew training. FAAC and Moog recently enhanced the software (i.e., close-loop control files) for Moog's motion bases to give driver trainees the feel of traveling down an array of road surfaces such as cobblestones or bricks. Realtime Technologies, Inc. – a division of FAAC and a provider of engineering level simulations and real-time tools – provides the motion cueing that is part of Moog motion seat and full motion systems.
At I/ITSEC 2011, Moog and FAAC occupy booth #1720 and #1907, respectively, at the Orange County Convention Center.
Moog Inc.
www.moog.com/industrial
FAAC
www.faac.com
::Design World::

---
Filed Under: Automotive, Actuators, Mechanical, Motion control • motor controls, Mechatronics, Motors • servo, Simulation
---