Most Americans believe that Apply should comply with the FBI's request to unlock the iPhone of Syed Farook, a gunman in last year's San Bernardino shootings that killed 14, according to a recent survey by the Pew Research Center.
The survey of roughly 1,000 adults found that 51 percent are in agreement with the FBI, whereas 38 percent believe the phone should remain secure to protect the privacy of all iPhone users. Of the surveyed, 11 percent had no opinion.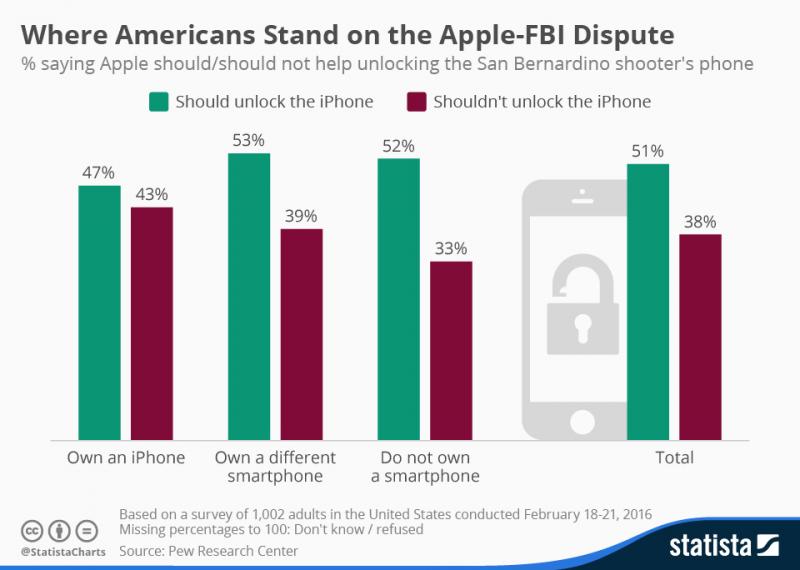 Looking only at iPhone users, 47 percent said that Apple should comply, whereas 43 percent want the company to stand strong. That gap, however, widened with owners of other smartphones to a 53-39 split.
The debate began last week, when Apple received a court order to hack into an iPhone — the first ruling of its kind, reported the Associated Press. Specifically, the order requests that Apple create a code to allow the FBI to bypass some of the phone's security measures, including a memory-erasing function that kicks in after too many failed unlock attempts.
Apple filed an official response to the court order Thursday, saying it violated its First and Fifth Amendment rights.
The order only requires that the code would work on Farook's phone, but Apple CEO Tim Cook is concerned that complying would set a dangerous precedent that could potentially leave all iPhones more vulnerable to security breaches.
"We simply want the chance, with a search warrant, to try to guess the terrorist's passcode without the phone essentially self-destructing and without it taking a decade to guess correctly. That's it," said FBI Director James Comey. "We don't want to break anyone's encryption or set a master key loose on the land."
Although he admitted that it "didn't feel right" to fight the order, Cook said, "if a court can ask us to write this piece of software, think about what else they could ask us to write."
Other tech giants are also getting involved in the security dispute, Bloomberg reports. Microsoft plans to soon file an amicus or "friend of the court" brief in support of Apple, and Alphabet, Twitter and Facebook are expected to file similar briefs.
According to CNN, the government has until March 10 to respond, and attorneys from both sides will meet in court March 22.
However, given that Cook has already said that he's prepared to take the issue to the U.S. Supreme Court, the fight will likely continue well beyond March.
Do you believe Apple is doing the right thing by standing up for the security of its customers? Do you think the dispute will make it to the Supreme Court? Comment below or tweet @MNetKatie.
---
Filed Under: Industry regulations
---