The miniature MSR 147WD Data Logger has been designed to receive pre-calibrated humidity and temperature sensors. It is small (35 x 17 x 57mm) and lightweight (27g), making this unobtrusive logger ideal for tests on human subjects. Among other applications it can be used for measuring the properties of textiles and clothing during manufacture and in active use. The MSR 147WD, equipped with Bluetooth Low Energy (BLE) communication and storage for one million measured values, can wirelessly monitor physiological parameters such as skin temperature and ambient humidity over long periods. The logger is powered by an internal rechargeable 260 mAh lithium-polymer battery, and it is also available in an IP67 waterproof version.
There are five logging channels for connecting external, pre-calibrated MSR humidity and temperature sensors. The MSR sensors can be individually inserted and removed, and an automatic configuration feature means that the MSR 147WD data logger instantly recognizes a sensor when it is inserted. Calibration data is stored in the sensor itself. Sensors measuring air pressure and 3-axis acceleration (static) can be internally-mounted for additional data parameters. The measured values can be retrieved online by means of a BLE or USB connection. A smartphone app "MSR DataLogger" allows for remote control (start, stop, read out data recordings) or for transferring readings to "MSR SmartCloud" storage.
The MSR 147WD features a built-in OLED color display that shows data and graphical charts, allowing the real-time data to be checked without needing a smartphone. When testing functional clothing (e.g. comfort on the skin and the microclimate between individual layers of clothing) the built-in Bluetooth 4.0 Smart communication makes the task significantly easier. Using the "MSR DataLogger" app on a smart device it is easy to check that the data is being properly recorded without requiring a test subject to adjust clothing to access the logger.
Application examples:
Environmental chamber tests on subjects in controlled conditions: skin temperature and moisture level
Operational field tests (skiing, jogging, cycling, swimming, fire-fighting, military operations) for moisture levels inside shoes, helmets, clothing
Sleep tests: skin moisture level, temperature, sleeping tent temperature, moisture and pressure variations of air beds during movement
Medical field: skin temperature/moisture level with surgical stockings, temperature/moisture level profile with medical skin coverings; efficiency measurements of cooling and heating pads
Test measurements for designing foundry-protective clothing and other functional or work clothing
Made in Switzerland by MSR Electronics GmbH, specialists in designing miniaturized dataloggers for a broad range of uses, MSR 147WD loggers are available from Saelig, their US technical distributor.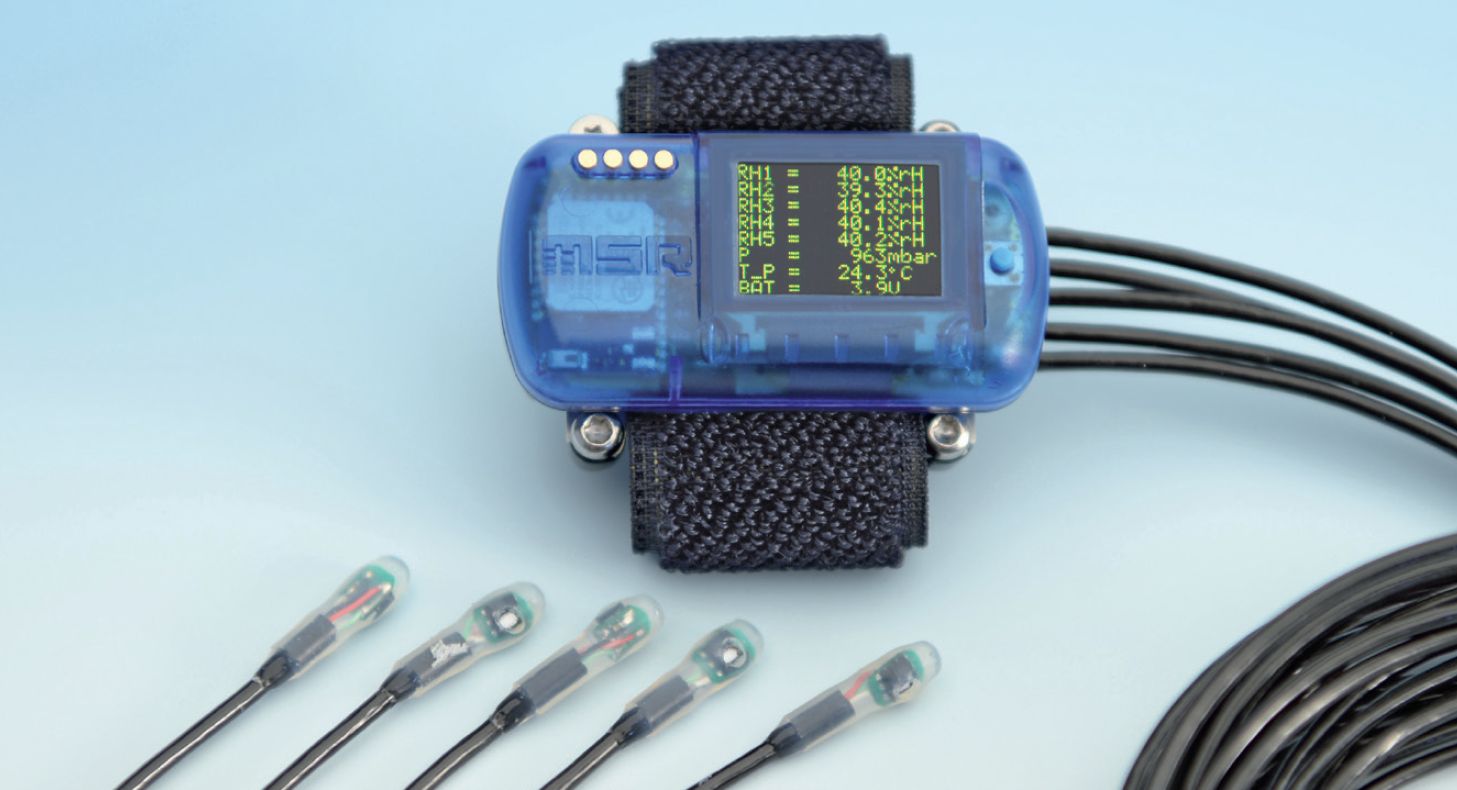 ---
Filed Under: Test + measurement • test equipment
---