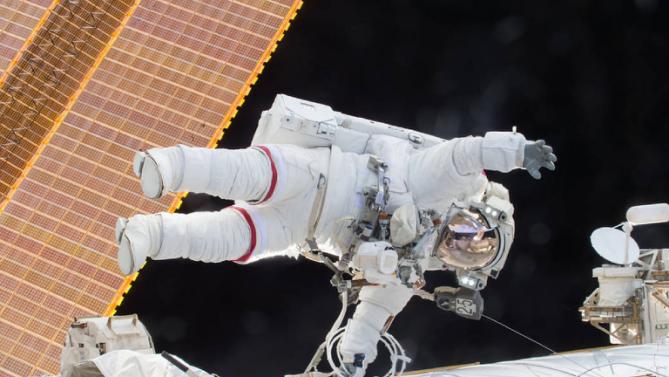 NASA split a multi-billion-dollar contract to resupply the International Space Station between three US firms: SpaceX, Orbital ATK and Sierra Nevada—a newcomer with reusable spacecraft.
President Barack Obama pledged in 2010 that the US space agency would increasingly work with private companies, placing them in competition in order "to make getting to space easier and more affordable."
"Today's announcement is a big deal that will move the president's vision further into the future," NASA Administrator Charles Bolden said in a statement.
"NASA has awarded three cargo contracts to ensure the critical science, research and technology demonstrations that are informing the agency's journey to Mars are delivered to the International Space Station (ISS) from 2019 through 2024," the statement said.
Each firm is contracted to launch at least six flights to the ISS between 2019 and 2024, NASA said.
The resupply contracts, worth a total of around $14 billion, also include funding ISS integration, flight support equipment, special tasks and studies, NASA said.
"This will ensure that we can keep the ISS fully stocked for crew to fully utilize the ISS as a laboratory," said the space station program manager at NASA, Kirk Shireman.
SpaceX and Orbital have been supplying the ISS since 2010 as part of a public-private partnership with NASA.
They will now be joined by the lesser-known newcomer Sierra Nevada, which is entering its first commercial partnership with the space agency.
The Nevada-based company said it was "humbled" to be one of the trio of firms chosen by NASA.
"SNC is honored to be selected by NASA for this critical US program," said Eren Ozmen, president of Sierra Nevada.
The company's space-shuttle-like vehicle, called the Dream Chaser, was last year closed out of the competition to carry astronauts to the ISS, losing out to Boeing and SpaceX.
Sierra Nevada's spacecraft is designed to launch vertically on a rocket and come back down to land horizontally on a runway, making it reusable—something SpaceX is also working to achieve in order to bring down the cost of rocket launches.
"In such a major competition, we are truly humbled by the show of confidence in SNC and look forward to successfully demonstrating the extensive capabilities of the Dream Chaser spacecraft to the world," Ozmen said, calling participation in the program "an American Dream come true."
Orbital, one of the US space agency's established partners, said it was also delighted to be renewing its relationship with the US space program.
"We are grateful for NASA's continued confidence in our ability to provide reliable and affordable commercial cargo transportation services to the International Space Station," said David Thompson, Orbital ATK's president and CEO.
"With our flexible cargo delivery system now up and running, our team is well prepared to deliver essential supplies to the International Space Station for years to come."
SpaceX and Sierra Nevada will primarily be launching from Cap Canaveral in Florida, while Orbital ATK will mostly use the Wallops Island space center in Virginia, on the US east coast.
---
Filed Under: Aerospace + defense
---