Across most industries today, disruptive trends are rapidly overturning long-established business models. From tightening regulations to new competitors from previously unrelated industries, companies are facing significant business uncertainty – and its potential impact on cost – in planning future product programs. This is especially true for industries like automotive and aerospace, where product development and sales cycles can span several years. Staying profitable in this period of business uncertainty will require companies to go far beyond merely doing things faster-better-cheaper.
The cost side of the profitability equation – also the more controllable, and hence important side – is of particular relevance to product development. Product development has always excelled at meeting functional and performance requirements defined for a new product, but has an inconsistent record for meeting product cost objectives.
While up to 80 percent of the product cost is influenced by product development, our research indicates that the failure to meet cost objectives, and hence the business case, is actually a result of a series of cross-functional failures during the development lifecycle. Limited understanding of how functions can contribute to achieving overall product cost objectives, exacerbated by poorly structured metrics and governance models, has led to siloes of activity with poor cross-functional collaboration.
We believe companies can increase and sustain high profitability by focusing at an enterprise level, on three broad areas: effectively planning for profitability, efficiently executing to the plan, and meticulous, closed loop change management, because even the best plans and execution face a constantly changing environment.

Let's look at these areas in further detail:
Planning for profitability is the most important – and often overlooked – aspect of meeting profitability objectives. It starts with defining expected margin for a new product program – which sounds easier than it is for several reasons:

A company's overall profitability is actually a composite of different margins from various product lines. Each of which may be offered in multiple sales configurations and options – all contributing different, and poorly understood, margins that may even vary by regions, seasons, and volumes.
Companies have less control on the revenue side of profitability as both volume and price are ultimately determined by the market [Figure 2]. Forecast accuracy therefore becomes very critical in minimizing profit-sapping mechanisms such as incentives or overtime costs. In our experience, advanced analytics can significantly improve forecast accuracy.
It can be difficult to gage reasonableness of the target cost for the new product or option (forecast pricing minus expected margin) in the early concept stage. Besides, the circular nature of pricing and features offered limits simple de-contenting as an option to meet target cost.
Once the plan for profitability is defined, the expectations need to be communicated to the program team so it can be executed. Our analysis shows that 35 percent of the development teams are not even informed of their profitability target.

Companies put much emphasis on execution but, in our experience, often miss three key requirements – front-loading targets early in the program, use of design to cost or design to value approach, and providing visibility to all program imperatives during development.

The product cost target defined earlier now needs to be collaboratively allocated to the engineering functions. Depending on the product, these functions could include mechanical structures (e.g., airplane fuselage, automobile chassis, or washing machine drum), drive units (e.g., engines, motors, and transmissions), electrical components (e.g., wiring harnesses), and electronics with user interfaces.
Each function would further allocate their cost target down to lower level systems and sub-systems. In our experience, analytics can provide robust initial guidance on target cost allocation. These allocations represent enterprise level costs, and include all cost elements such as design, material, tooling, manufacturing, packaging, and logistics.
Few companies truly use target costs to design their products even though it can foster significant design innovation. One example is the Tata Nano car, where the team started with a blank slate and an aggressive cost target of approximately $2,000. They succeeded where others, who approached it from taking cost out of a traditional design, failed.
Throughout the development phase, visibility into actual status of all cost elements, for all components and systems, and compared against targets allocated to them, is essential. The ability to roll-up actual component and sub-system cost status to higher level system or end product, provides real-time guidance on how development is tracking to the overall target.
Actual cost status is estimated differently – with corresponding level of confidence – at different stages in a component's development. An early concept may only have the design engineer's rough estimate, while a cost estimator can provide an accurate estimate for a completed design, and certainly, a released design quoted by a supplier would offer 100% confidence.
Our research shows that 42 percent of companies don't have visibility into costs during development, and over 50 percent of their launches fail to meet program cost targets.
Product development is essentially the transformation of a mere concept into a real product through a series of changes. Change management helps profitability in three ways:

Provides design to cost with ability to conduct trade-offs between various cost elements within a component or sub-system and between them. Analytics tools can help identify trade-off opportunities.
A component could trade-off within its elements, such as a more complex, higher cost tooling for a simpler design with lower unit cost. A one-piece plastic box with a molded-in living hinge and snap lock for the lid is a good example.
Trade-offs between components or sub-systems can drive tremendous innovation and value. For example, an expensive turbocharger allows use of a smaller, lighter engine, which in turn, requires a lighter chassis, resulting in improved vehicle performance – a virtuous cycle indeed.
Importantly, trade-offs help optimize cost and performance of the end product, rather than individual components or sub-systems.
Use of agile development, versus traditional waterfall, eases implementation of changes so that the program more closely tracks its target with only minor corrective actions [Figure 3]. Naturally, products with critical safety and reliability requirements must balance agile development with clearly defined gate approval requirements and sign-offs.
Unnecessary changes such as those caused by poor collaboration are a waste and must be minimized. Change management provides insight into the root cause of changes to enable continuous improvement. In our experience, reason codes are often poorly defined and provide little insight into what caused a change. Two common reason codes we've seen are "design change" and "other", neither of which provide insight into why the design changed, limiting our ability to avoid them in the future.
Over the product lifecycle, change management continues to play a powerful role in managing profitability by understanding patterns in actual sales and focusing on configurations that are most in demand and most profitable.
These elements, while not comprehensive, allow a program to plan for profitability and then closely follow the plan to ensure that, at start of production, all functional and cost objectives are met. These are simple concepts and in fact, many companies believe they already use them, but their simplicity is counterintuitive and in practice they are hard to do. In our experience, this complexity is simplified by using an enterprise-level framework [Figure 4] of key processes, systems, and advanced analytics capabilities.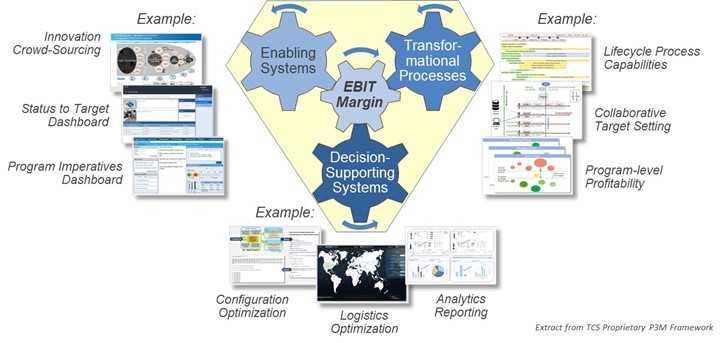 ---
Filed Under: Industrial automation
---