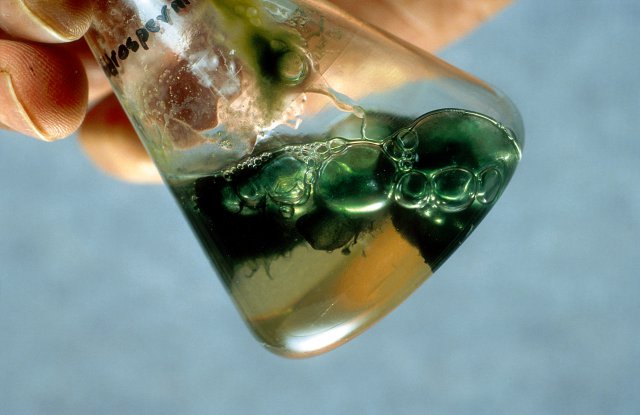 While people who go to the beach and lakes may think of algae as a slimy nuisance, Picatinny engineers have partnered with private industry to harness its photosynthesis ability to develop a safe, cheap, fast and environmentally-friendly way to recycle aging M6 artillery round propellant and create biofuel.
Propellant is the chemical substance in the artillery round that ignites and propels the round out of the howitzer tube. Currently, M6 propellant in the M119 artillery rounds is disposed, or demilitarized, primarily through incineration or open burning, which generates carbon dioxide.
"Because the algae-based process uses photosynthesis, it actually consumes carbon dioxide," said Pamela Sheehan, project officer and principle investigator for the M6 recycling research program at the Armament Research, Development and Engineering Center, or ARDEC, at Picatinny Arsenal.
"So not only is the process not carbon-dioxide generating, it goes beyond being carbon neutral to a carbon-dioxide consumer," she said. Eliminating the release of carbon dioxide into the atmosphere during destruction of propellant helps the Army reduce its carbon footprint and take action against climate change.
When circumstances allow it, the military recycles metal parts during the demilitarization processes.
However, the algae-based demilitarization method would allow the Army to recycle nitrogen, which is present in all propellants and explosives.
"We've conceptualized a process to develop a capability to extract and conserve that nitrogen using a hydrolysis process," Sheehan said. Hydrolysis is a chemical process of decomposition.
"The nitrogen then is in the form of nitrite and nitrate, and we want to use that nitrogen to grow algae in a reactor. The algae utilizing the nitrogen will grow, and as they grow will produce ethanol, and an oil product that can later be refined into diesel fuel," she said.
ADDITIONAL REVENUE SOURCE
By creating oil that can be sold or used on site, the algae-based biofuel process will also allow the Army to create a source of revenue from what otherwise has been a waste-stream. This will offset the cost of demilitarization.
The Picatinny team is working with the industrial biotechnology company Algenol Biotech LLC, which has a patented algae technology platform for the production of ethanol and other biofuels.
The company recently won the Presidential Green Chemistry Challenge Award and has previously received funding from the Bioenergy Technologies Office at the Department of Energy.
ARDEC engineers are developing the hydrolysis process to extract the nitrogen at Picatinny.
The nitrogen would then be shipped to Algenol in Florida for the algae growth process.
REDUCING THE MILITARY'S WEAPON STOCKPILE
M6 propellant is one of the Department of Defense's top 10 most plentiful items in the demilitarization stock pile. Currently, about 8.7 million pounds of M6 propellant are stockpiled and awaiting disposal – enough to fill about three Olympic-sized swimming pools.
Incineration and open burning can be slow processes because the military is limited by equipment size, weather and regulatory air permits as to how much propellant can be burned burn per space and per year.
"Because of logistical and environmental permit limitations, it could be 21 years before 8.7 million pounds of M6 propellant can be burned," Sheehan said.
Current estimates indicate that the same amount of M6 propellant could be disposed of in seven years using the algae-based process because the military could treat more per year since it is not constrained by the limitations associated with burning.
"The algae-based process is a broad program, and we're looking at it as a platform technology," Sheehan said. "All of our energetics have nitrogen in them – all of them. So conceptually this process can apply to everything we have in the stock pile – currently and in the future."
HOW MUCH DOES IT COST?
Cost and budgets are always a significant factor to military programs.
Open burning the M6 propellant is currently the cheapest way to dispose of it. Typically open burning and open detonation is about $1,000 per short ton of the M119 prop charge. The other alternative is to use a closed disposal treatment system, like an incinerator, which is roughly $4,000 per short ton.
However, the algae process is estimated to cost around $1,800 per short ton, making it more expensive than open burning, but still far cheaper than closed disposal.
"We want to implement a process that's safe, environmentally sound, faster and cheaper," Sheehan said.
This innovative process to reuse artillery propellant has been underway at ARDEC since 2014. So far, it has made significant progress.
Sheehan's team has proven the concept can work successfully in small batches. The engineers are now scaling up and testing the process at a larger volume with reactors that run continuously.
Conversion of energetics to renewable biofuel is an example of a new capability in biotechnology and industrial microbiology emerging from the Demil and Environmental Technologies Division at ARDEC.
ARDEC is funding the program through science and technology funds and may transfer the program to the Product Manager Demilitarization once the concept has been proven, which could be as soon as 2018.
Product Manager Demilitarization is part of the Program Executive Office for Ammunition at Picatinny Arsenal. The Army is the single manager of conventional munitions and is responsible for demilitarization of all old, unserviceable, or excess ammunition for the Department of Defense.
---
Filed Under: Aerospace + defense
---