All the hype about flying cars has posed a good question: What type of tires can both drive on the road and fly? It seems Goodyear has a tire they want to propose called Aero that integrates a multimodal tilt-rotor concept.
On display as a physical prototype at the Geneva Motor Show, the Aero is surrounded by rubber tread for traction on the road but doesn't have a pneumatic air chamber, according to New Atlas. There are integrated spokes flex that absorb shocks with its non-pneumatic structure while still being strong enough to support the vehicle.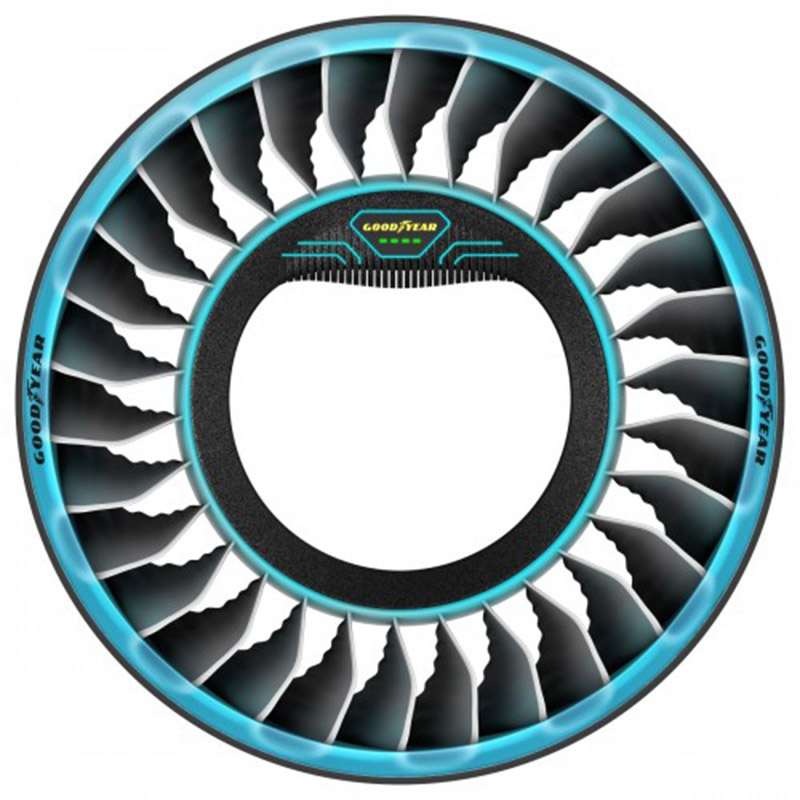 The tires change their shape to adjust to flying or driving by modifying the tire position. They remain perpendicular to the road while driving, and when they take off for flight, the two tires, diagonal from one another, swing out and sit parallel to the road. These two tires act as the "propeller" and start spinning. The magnetic force provides frictionless propulsion and enables high rotating speeds for ground driving and air flying. The spokes act as rotor blades that create enough oomph to lift the car off the ground, and the opposing tires then swing out and spin up for a quadcopter-style lift off.
Once the vehicle is in the air, the Aeros become propellers for forward flight. Since the tires need to continuously rotate, they would use a zero-friction magnetic propulsion system.
The company also said the tires would contain fiber optic sensors that would monitor road conditions, and indicate tire wear and structural integrity. The data would then be analyzed by an onboard artificial intelligence processor that would recommend driving or flying based on the conditions.
"For over 120 years Goodyear has obsessively pursued innovations and inventions, partnering with the pioneers driving change and discovery in transport. With mobility companies looking to the sky for the answer to the challenges of urban transport and congestion, our work on advanced tire architectures and materials led us to imagine a wheel that could serve both as a traditional tire on the road and as a propulsion system in the sky," Chris Helsel, Chief Technology Officer at Goodyear said.
---
Filed Under: AI • machine learning, Product design
---