Teledyne LeCroy's Quantumdata 280 HDMI/HDBaseT Video Generator (Tx) and Analyzer (Rx) is a small compact, battery powered test set suited for professional A/V integrators and home theatre installers. This convenient test set assists with fundamental verification and diagnostic tests on HDMI/HDBaseT cables, video distribution networks, and individual A/V components. The HDMI input and output ports support testing at data rates of up to 18Gbps and pixel rates of up to 600MHz. The HDBaseT input and output ports support testing at pixel rates up to 300MHz.
The Teledyne LeCroy 280 Test Set can quickly verify hot plug, +5V, EDID, HDCP, and video transmissions through a video distribution network, check interoperability between video sources, displays and distribution equipment, and diagnose video and protocol failures in cables, video distribution devices and components with a simple Pass/Fail indication on its LCD display.
Video/Audio Tests Supported:
280G Video Generator
Video Test: select from standard set of CTA and VESA formats and test patterns up to [email protected]
Hot plug detect: check hot plug voltage from connected sink (e.g. UHD TV)
HDCP active: verify HDCP; select version 1.4 or 2.2
EDID Test: view EDID contents of connected sink or entire downstream video distribution network
Audio Test: generate LPCM audio test tone to check continuity end-to-end
280A Video Analyzer
Video Format Test: verify incoming video timing and essential video parameters from a UHD source or entire upstream video distribution network
Video Test: view incoming video on embedded screen
+5V: check +5V from a UHD source
HDCP Active: verify HDCP operation; version 1.4 or 2.2
EDID Test: emulate EDIDs to test response of source or entire upstream network
Link/Cable Test: test HDMI or HDBaseT cable runs, cables installed on site and routed through walls.
Audio Test: verify LPCM audio end-to-end
Installing video equipment and distribution networks is a complex task. This is especially true for the newest 18Gbps network installations. The quantumdata 280 Test Set can identify likely causes of problematic and expensive failure conditions such as no video, degraded video, flashing video, unexpected video or audio and other performance issues.
The compact (7.1" x 7.4" x 1.25") and lightweight (0.95lbs) quantumdata 280 Test Set is available now from Teledyne LeCroy's authorized North American distributor Saelig Company, Inc. Fairport, NY.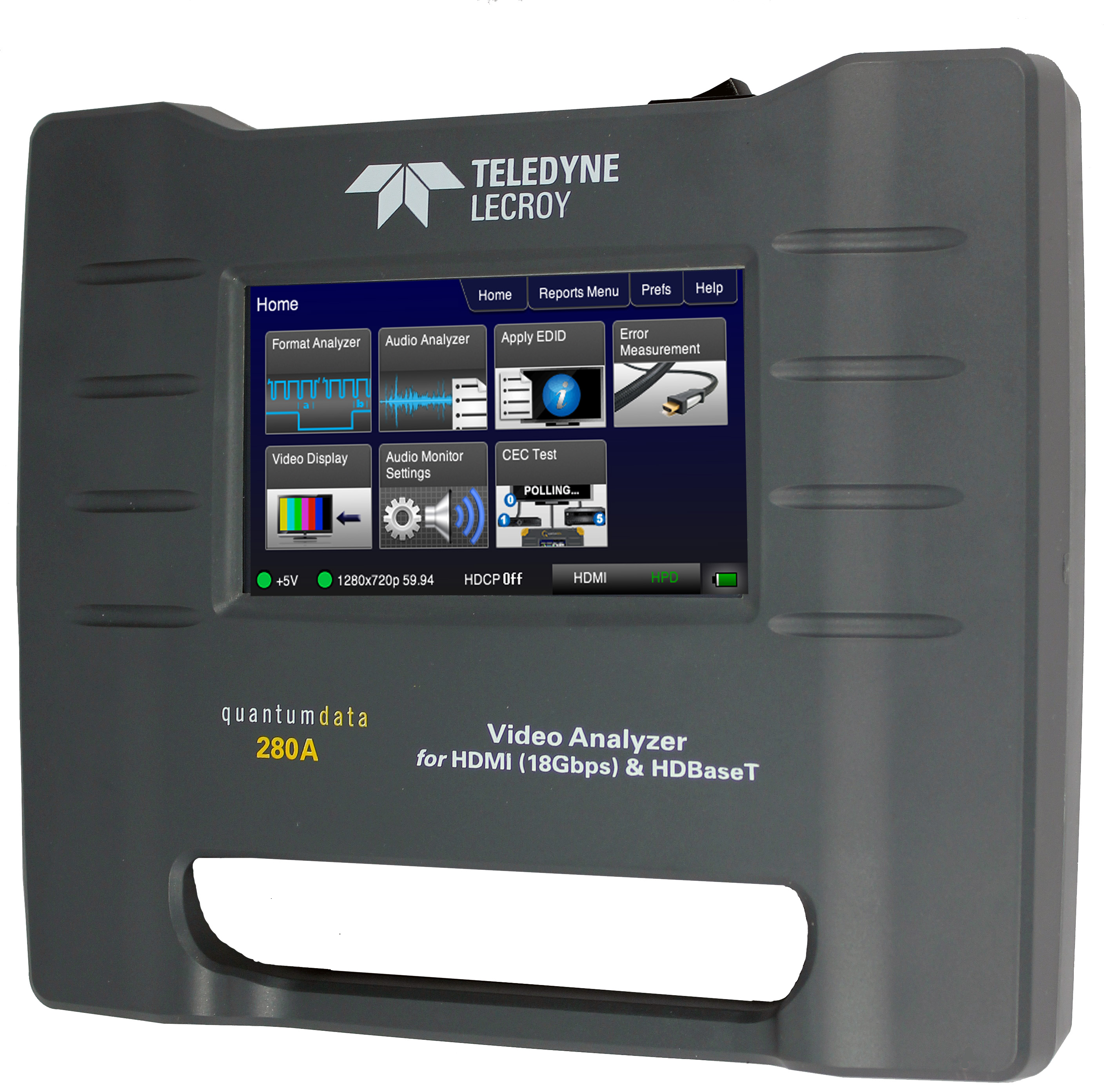 ---
Filed Under: Test + measurement • test equipment
---