Mencom Serial Device Servers are specifically designed to allow industrial devices to be directly accessible from the local network or even the Internet. Available in field-mount, din-rail mount or rack-mount versions from 1 up to 16 ports along with different Operation temperature/EMC variants, these serial device server series covers all the needs that end-users may have in converting Ethernet to Serial port (RS-232, RS-485, RS-422). In addition, using the Serial Manager Software configuration tool can not only make the set-up and integration process easy and immediate but also seamlessly enable VirtualCom on their computer via Ethernet or any other serial devices. Selected versions can also be provided in a simply programmable SDK version running Linux.
Entry level Serial Device Servers
Mencom' entry-level serial device servers provide 1 or 2-port RS-232/RS-422/RS-485 connectivity in a rugged metal case with an optional 2kV magnetic isolation. These serial device servers are suitable for simple and less demanding applications. They are available with a DB9 or a TB5 connector and selected versions are Industrial-EMC certified. With operating temperature range from 0 to 60 °C, the entry-level serial servers provide the most simple but reliable Ethernet to Serial conversion.
Wireless/Cellular Serial Device Servers
To convert between serial to Ethernet where cabling installation is an issue, Mencom's wireless device serial servers provide a reliable and affordable solution with the combination of ethernet ports and terminal blocks/DB9 connectors. For selected versions which provide Industrial EMC compatibility, they support MIMO dual-antenna features and IEEE 802.11 a/b/g/n and 3G/4G/HSPA connectivity.
Advanced/Industrial Serial Device Servers
Advanced/Industrial serial device servers are available in 1, 4 or 8/16 serial ports versions to provide the ultimate solution for the Ethernet to Serial conversion. Their wider operating temperature ranges are from -20 to +70 °C and up to -40 to +85°C with the industrial versions. They also feature enhanced EMC protection, Serial port isolation, and faster CPUs to provide advanced features and improved performance. PoE (Power over Ethernet) is available for selected industrial versions.
EN50155 – Railway specific Serial Device Servers
Mencom's railway serial device servers support two serial connectivity ports (RS-232/RS-485/RS-422) and one Ethernet port and are enclosed into a waterproof IP68 rugged housing.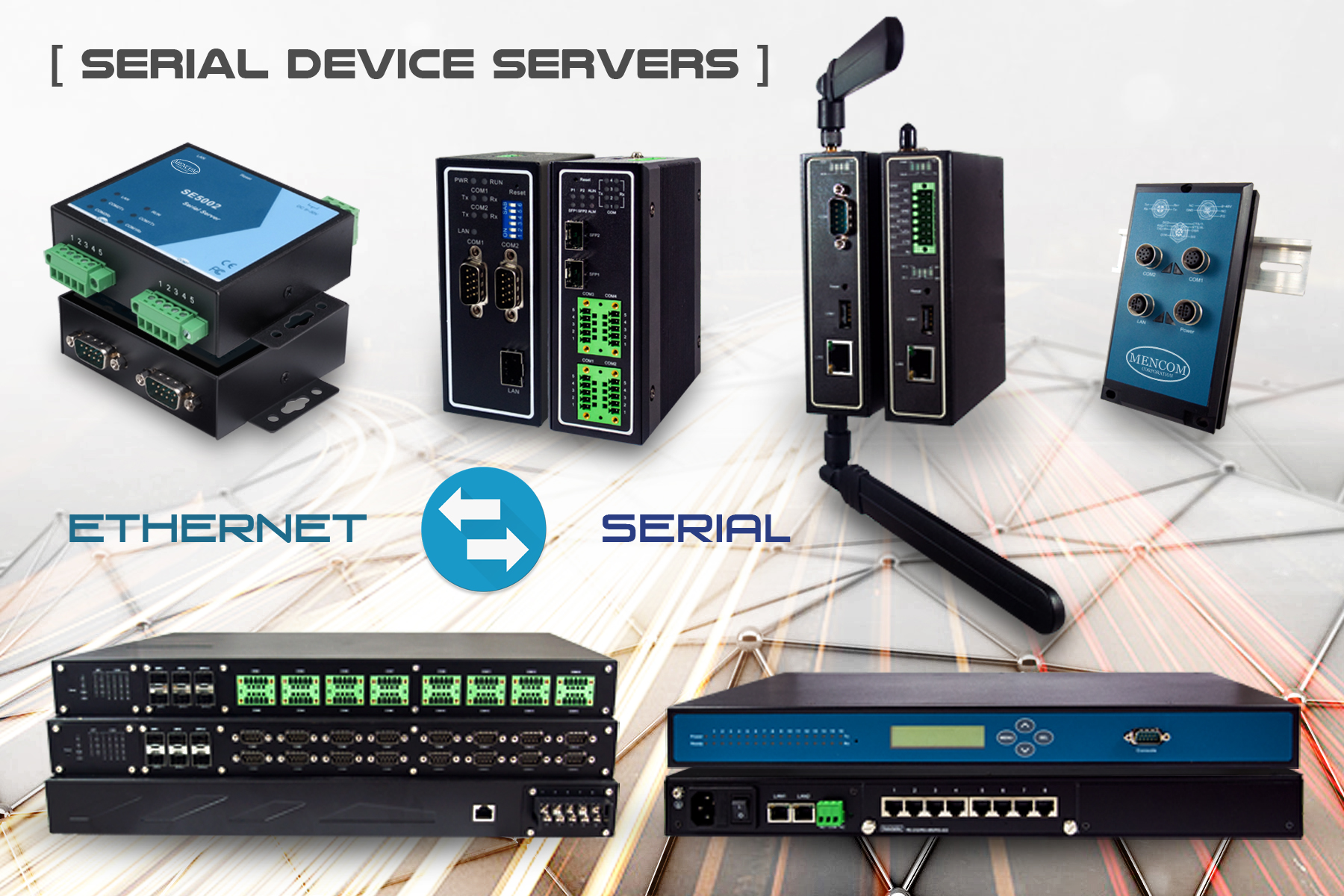 ---
Filed Under: Industrial automation, Terminal blocks
---