The U.S. Department of Commerce's Bureau of Economic Analysis (BEA) has released its statistics on gross domestic product (GDP) – one of the main indicators used to gauge the state of the economy.
In 2014, GDP indicated widespread economic growth across several metropolitan areas. In total, GDP grew 2.3 percent in 2014 (1.9 percent in 2013) with 20 metropolitan areas representing 52 percent of the total GDP in the U.S.
According to howmuch.net, five states contributed 40 percent of the overall GDP for the U.S. The states include:
California: $2.11 trillion, 13% of overall GDP
Texas: $1.46 trillion, 9.5% of overall GDP
New York: $1.28 trillion, 8.4% of overall GDP
Florida: $769 billion, 4.8% of overall GDP
Illinois: $680 billion, 4.3% of overall GDP
Various industries contributed to this growth, including wholesale and retail trade, which contributed 0.34 percentage points, and while natural resources and mining weren't major contributors, they added to several fast growing metropolitan areas, such as Midland, TX and Wheeling, WV.
The government sector subtracted from GDP growth in 2014 (0.01 percentage points).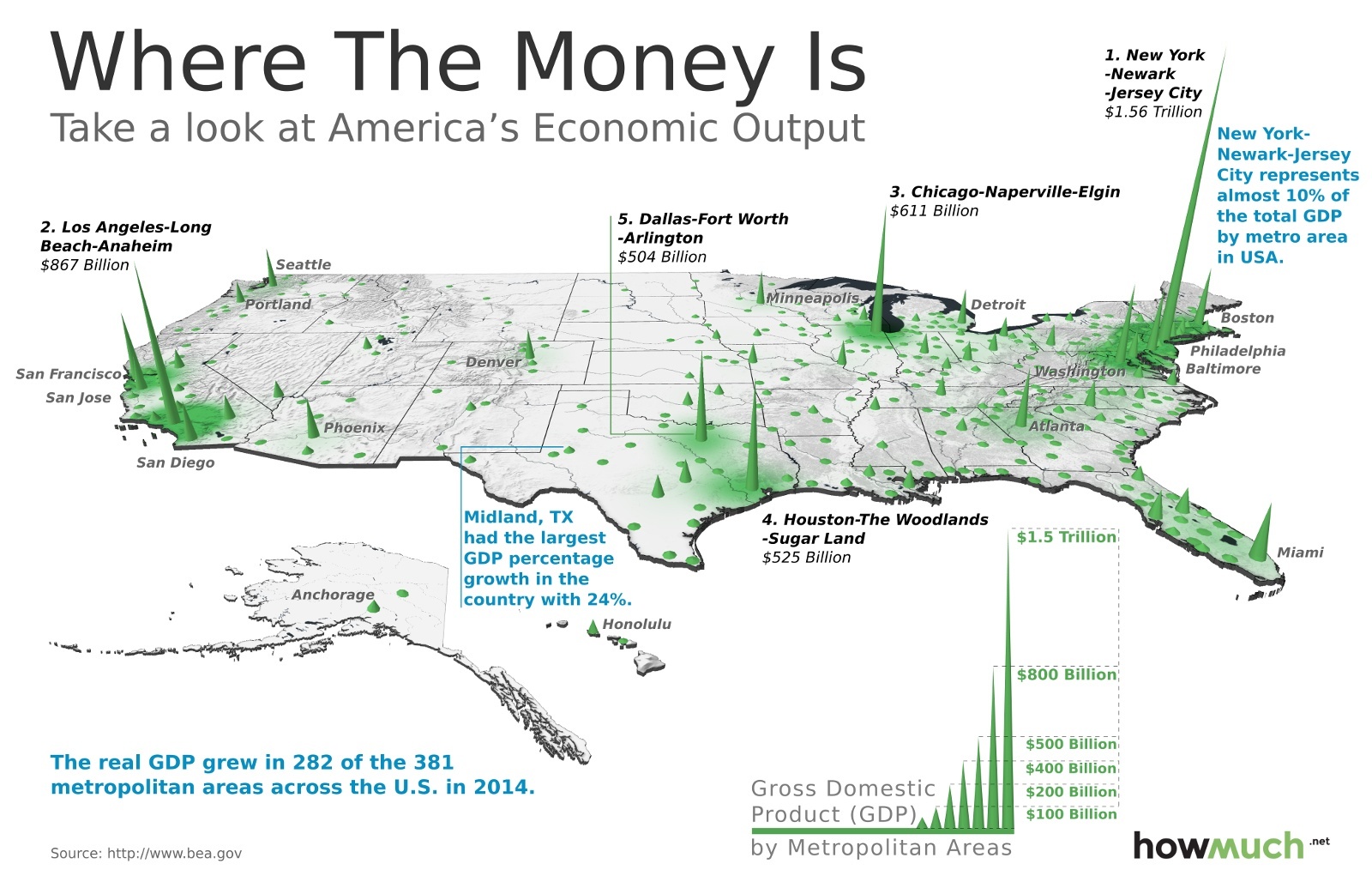 Today, the department released revised statistics of GDP by industry for 2012 through 2015's first quarter.
The updated statistics indicate that overall, 18 of 22 industry groups contributed to a 3.9 percent increase in real GDP in the second quarter.
Finance and insurance, professional, scientific, and technical services, and wholesale trade were the leading contributors to this growth.
Professional, scientific, and technical services increased by 7.6 percent, which reflects a growth in miscellaneous professional, scientific, and technical services. These industries include architectural and engineering services as well as scientific research and development services.
Wholesale trade increased 8.4 percent, after decreasing 1.0 percent.
Transportation and warehousing services increased 10.4 percent, marking the largest increase in the industry group since 2010's third quarter. According to the BEA, this increase can be primarily attributed to air transportation.
The country's real gross output (the measure of an industry's sales or receipts) also increased in the second quarter. Professional, scientific, and technical services contributed to this growth, with a 4.0 percent increase primarily attributed to legal services.
Mining took a huge hit, decreasing 26 percent as oil and gas extraction slows. This was the largest decrease since 2009's second quarter.
For more information, visit www.bea.gov.
---
Filed Under: Industrial automation
---