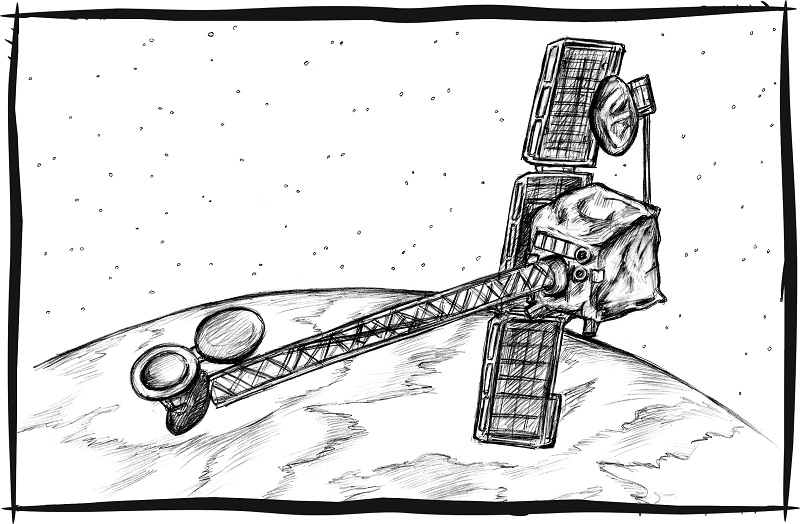 Spacecraft of the Week is a feature showing the engineering and design that went into creating the vehicles that explore our universe. Illustration by Larry Corby.
The oldest surviving spacecraft in orbit around Mars has been there for almost 15 years, bouncing communications from landers back to Earth. The 2001 Mars Odyssey completed its primary science mission between February 2002 and August 2004, but kept working as support for the Mars Exploration Rovers afterward, and is still going.
The Odyssey, named for Arthur C. Clark's famous "2001: A Space Odyssey," was built at Lockheed Martin as part of NASA's Mars Exploration Program. It launched on April 7, 2001, an irregularly-shaped box with two large solar panels. A gamma sensor head is mounted on a long boom. The body of the spacecraft is made mostly of aluminum and titanium in order to keep its weight down. The design of the metal structure is based on that used in high-performance and military aircraft.
The spacecraft's body is actually made up of two modules, the propulsion module and equipment module. The latter has two decks connected by struts, on which the science instruments sit. Electrical power is generated from the solar arrays, which are made of gallium arsenide solar cells. Power that is not distributed around the spacecraft is stored in a 16-amp-hour nickel hydrogen battery.
For propulsion Odyssey uses a main engine and eight thrusters. The main engine, which runs on hydrazine with nitrogen tetroxide as an oxidizer, was used to put the spacecraft into orbit. Four thrusters are used for attitude control (0.2 pounds of force) and turning (5 pounds of force).
As a result of the Odyssey's observations, we now know about the water ice on the poles of Mars, as well as the radiation levels in the Martian atmosphere and the variety of elements and minerals present on the surface of the Red Planet. Along with searching for life and characterizing the climate and geology of the planet, Odyssey also took information that would form the groundwork for plans for human exploration of Mars.
Odyssey is still in orbit, now relaying transmissions from Curiosity and observing the planet's surface.
---
Filed Under: Aerospace + defense
---