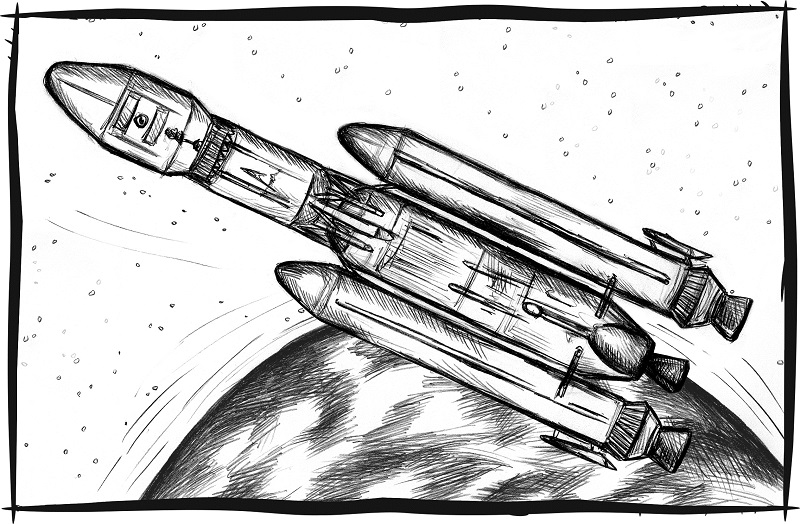 Spacecraft of the Week is a feature showing the engineering and design that went into creating the vehicles that explore our universe. Illustration by Larry Corby.
The Indian Space Research Organization sent orbiters to both Mars and the Moon in the early 2000s, and is also working on its own rocket in order to launch satellites into orbit.
The LVM 3 heavy launch capability stack, also called the Geosynchronous Satellite Launch Vehicle, would boost India's independent capabilities in space. It underwent its most recent flight suborbital test in December 2014, and is now being prepped for a high-thrust cryogenic engine, which will provide 196.5 kiloNewtons of thrust in vacuum. The first crewed flight is expected to take place sometime in the 2020s, while the first orbital flight is planned for 2017.
A successful test of the cryogenic engine took place on April 28, 2015, at which time the engine fired for 35 seconds.
The launcher faced a delay in April 2010 when the cryogenic upper stage failed, but the program continues to go forward. The suborbital test in December 2014, including the solid and liquid propulsion stages, a dummy stage in lieu of the cryogenic propulsion engine, and the crew compartment, was successfully conducted.
That crew model, called the Crew Module Atmospheric Re-entry Experiment (CARE), has space on board for three astronauts. During the uncrewed experiment, it was controlled using remote control navigation.
At 640 metric tons at liftoff, this is the heaviest spacecraft India has ever sent into space, and can carry 8,000 kilogram payloads into low-Earth orbit. It's narrow, only 4 meters in diameter, and 43.43 meters in height.
The completed stack has three stages, including the cryogenic upper stage. In the second stage are two Vikas engines, built in India by Godrej Aerospace and Walchandnagar Industries Ltd. Those two companies also provided the six thrusters on the crew modules, and Walchadnagar built the motorcases, tankages, and end rings for the first stage.
The cryogenic engine was designed by Liquid Propulsion Systems Center in India, with support from VIkram Sarabhai Space Center. When it's completed, the cryogenic upper stage engine should be able to create 2 MW of power, nearly twice as much power able to be produced by the engine previously planned for the LVM 3.
One of the things that makes the cryogenic unique is its "Gas Generator Cycle," which enables independent development of each sub-system before the integrated test.
In its first experimental flight, the LVM 3 and CARE crew module splashed down in the Bay of Bengal, marking a successful flight for both units. If the new cryogenic upper stage pans out, it will be one of the most powerful upper stage cryogenic engines in the world, further helping India bring its geosynchronous satellites to space.
---
Filed Under: Aerospace + defense
---