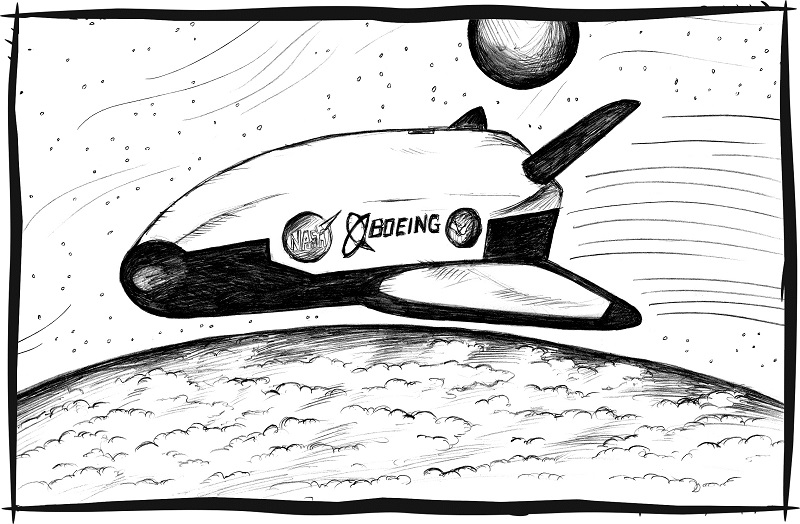 Spacecraft of the Week is a feature showing the engineering and design that went into creating the vehicles that explore our universe. Illustration by Larry Corby.
One of the most exciting spacecraft in the world right now is also one of the most mysterious. The Air Force has published some of the specifications of the X-37B Orbital Test Vehicle, as well as publicizing information about some of its missions, but this unmanned spaceplane, the closest thing there is to a successor to the Space Shuttle program, is also shrouded in mystery. One of NASA's descriptions tantalizingly says "payload and mission purpose are unknown."
We do know a little bit about what the vehicle is doing, and it sounds a lot like a high-tech attempt at a new shuttle. It has flown four missions so far, testing high-speed flight and autonomous, repeatable landing. It can stay in orbit for over 270 days, and was in low Earth orbit as of early December 2015.
While there, the exact nature and details of its experiments are secretive, but the Air Force says that it is testing such varied technologies as autonomous guidance, thermal protection systems, avionics, high temperature materials and seals, reusable insulation, lightweight flight systems, and advanced propulsion systems – everything one would need for a workable, high-tech spacecraft. It's a strange contrast to NASA's present reliance on commercial crew and Russian assistance, but the military focus sets it apart.
While its shape is similar to that of the Space Shuttles, the X-37B is much smaller, at only 9 feet 6 inches in height and 29 feet 3 inches long. It's powered by one Rocketdyne AR2-3 rocket engine made by Pratt & Whitney, which produces a maximum 29.3kN thrust. Gallium arsenide solar cells and lithium-ion batteries are used instead of fuel cells to power the engine.
Its design was based on that of the X-37 Orbital Vehicle, which was designed for NASA but never built. A smaller scale version, the X-40A, was developed by Air Force Research Labs in the early 2000s and proved some of the automated approach and landing technology in September 2006.
At present, the program is run by the Air Force Rapid Capabilities Office, and uses both contractor and government investments to continue the program. The final version of the vehicle was built by Boeing, as was the X-40. Some technology tested in the X-37 went back to Boeing for use in their CST-100 Starliner spacecraft for the commercial crew program, including the flight computers. In April, the Air Force said that the X-37 was testing an electric propulsion system using a Hall thruster, which uses electricity and xenon for thrust.
The X-37B launches vertically from Cape Canaveral and lands horizontally on the runway at Vandenberg Air Force Base in California.
In 2011, Boeing released some information about plans for a newer version, the X-37C, which would be large enough to potentially carry six astronauts.
---
Filed Under: Aerospace + defense
---